Ghana Orphanage Founded by Cummins Engineer Takes Shape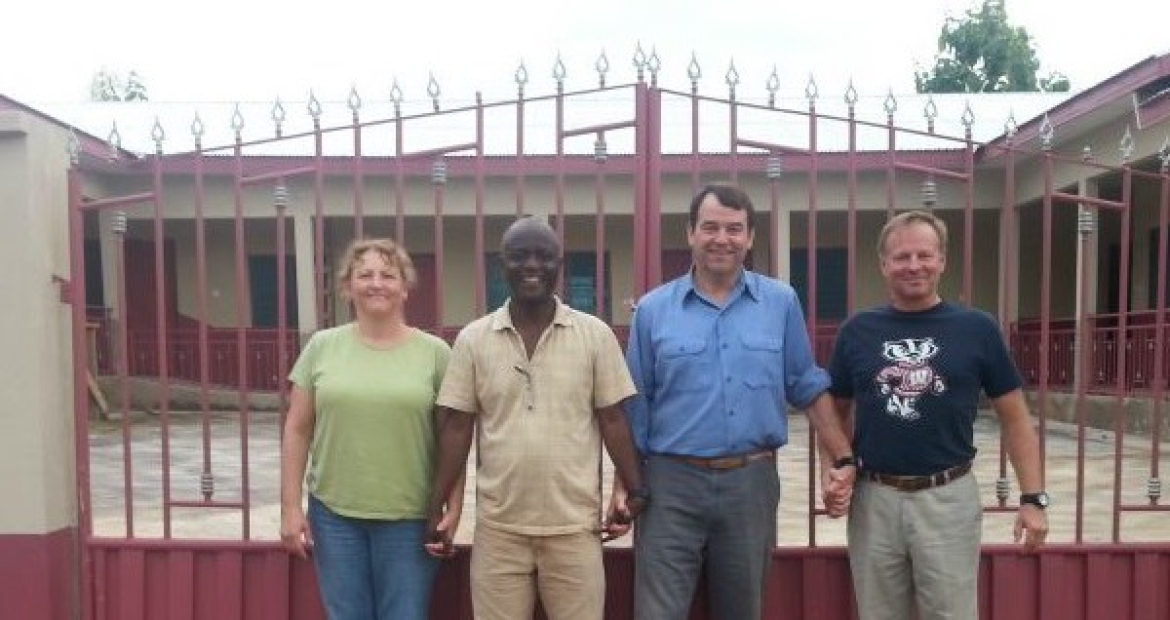 An Engineer's Blueprint of Hope
Six years ago, Kwasi Twumasi, an electrical engineer at Cummins Power Generation, started an orphanage in his hometown in Ghana. It did not begin as a vision, but rather an answer to a desperate question.
Twumasi's brother-in-law died of HIV/AIDS, and the family soon discovered that his sister had the disease, too. They have four children.
Cummins employees Julie Delago, Kwasi Twumasi, and Steve Prater join Mark Skinner, from outside the Company, on a working trip to Dormaa Children's Home in July, 2015
"It was then that I asked myself: What happens to children in my local community of Dormaa who, through no fault of theirs, become orphans? Who takes care of them? What if their families have no one to support the children?"
Fortunately for Twumasi's family, they did not have to face these hard questions. His sister is living today through medication and family support. But it was these questions that turned into Twumasi's vision for the orphanage. That vision soon had land, purchased out of his own pocket. Then a blueprint, which Twumasi drew himself. And now, his vision is even closer to reality as the building is prepared for opening in 2016.
In July, Twumasi, a customer support quality manager, recruited fellow Cummins Power Generation engineers Julie Delago and Steve Prater, and an engineer acquaintance from outside the company, Mark Skinner, to go to the district of Dormaa on the western edge of Ghana.
When it's complete, Dormaa Children's Home will provide shelter and basic education to 50 children in the community.
Dormaa is a town of about 22,000 surrounded by villages. Most residents are illiterate and farm for a living, selling corn, cocoa and fruit such as bananas and pineapples. Many children can be seen with food carts on the side of the road rather than in school. Their parents can't afford the $10 school uniform, Twumasi explained. So they just don't go to school.
Twumasi remembers this sense of hopelessness all too well. A broken home. Lack of education. Poverty. But as a teenager, he gave himself a second chance. "I had this realization that I didn't have any opportunity, nothing. So I should go to school," he said.
When it's complete, Dormaa Children's Home will provide shelter and basic education to 50 children in the community with nowhere else to go within 50 miles. The goal is to support orphans, children with disabilities and other disadvantaged children. The construction of the facility has progressed gradually over the past six years as funds became available through donations, many from Twumasi's co-workers at Cummins.
T
wo years ago, the roof went up. This year the electrical wiring, plumbing and painting got done. Next on the list is furnishing the orphanage and training local staff to manage it.
The physical transformation, however, is not nearly as great as seeing the community transform. Prater accompanied Twumasi on the roofing trip two years ago and has witnessed the passion of the Dormaa people on each trip. "The neatest thing about the orphanage is how involved people in the community are," Prater said.
Organized work days bring groups of volunteers from local churches out to clear brush and paint. Twumasi engages with church pastors on the orphanage's vision and he contracts local skilled labor at each phase of construction.
This is what will stick with Prater, a product software engineer, and Delago, chief technical advisor for global paralleling systems, for years to come – working hand in hand with the community on a blueprint of hope.
"Going to the site every day and working side by side with the Ghanaian volunteers, witnessing a 50-foot-deep well being dug and cemented by hand, watching painters mix five-gallon buckets of paint with their hands – all of these things emphasized how easy my life is and how much I take for granted," Delago noted.
"I don't feel like it was my engineering skills I went there to help out with," Prater said. "It wasn't like I was going there with all the answers; I went there to help and that's what we did. They showed us how to do it."
About the home
Dormaa Children's Home Inc. is a registered nonprofit organization both in Ghana and the United States.
You can see more about its work at the home's website: www.dormaachildrenshome.org
Donations can also be made through Global Giving https://www.globalgiving.org/donate/14119/dormaa-childrens-home-inc/info/
GiveMN www.GiveMN.org (Search word: Dormaa)