Cummins Sees Increase in Three Key Community Involvement Metrics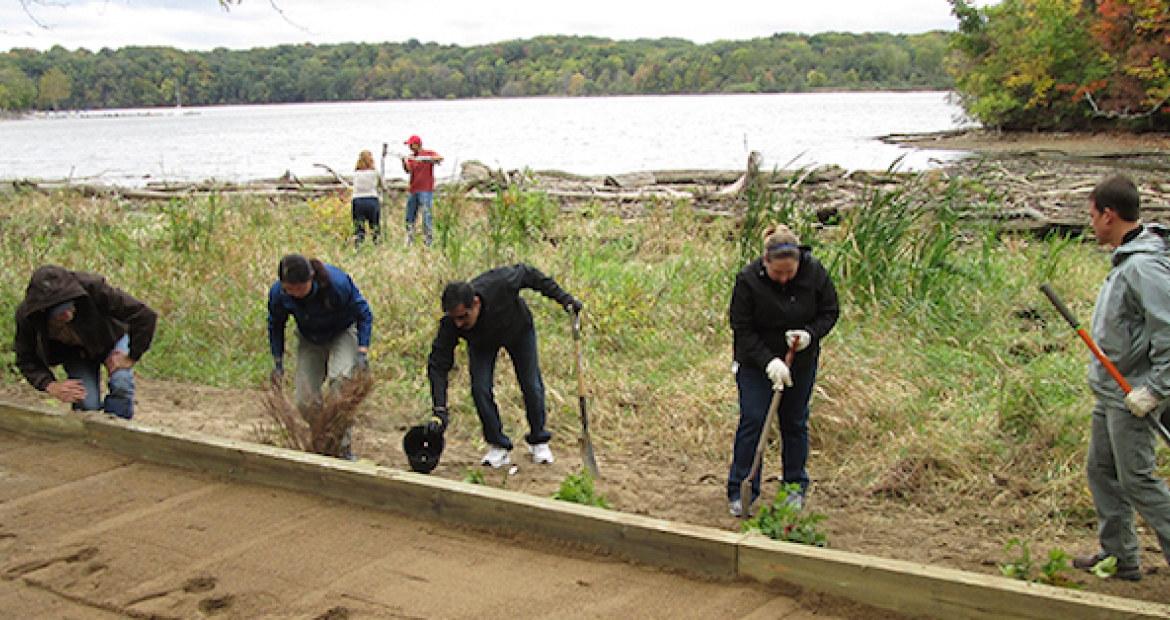 Participation increased in several key metrics in 2014 for community service programs at Cummins as employees worked to build stronger communities all over the world.
Involvement was up 18 percent in the Company's Environmental Challenge, five percent in Cummins' Every Employee Every Community (EEEC) program and employee giving was up about four percent for the United Way in North America – all key performance indicators for community engagement at the Company.
"At Cummins, we believe building stronger communities ultimately builds stronger markets for our products," said Mark Levett, Vice President of Corporate Responsibility and CEO of the Cummins Foundation. "These numbers show that our employees take our Company's Corporate Responsibility value very seriously."
ENVIRONMENTAL CHALLENGE
The Corporate Responsibility department's decision to create several regional competitions in 2014 feeding into the global judging in the Environmental Challenge seemed to pay off. After a small decrease in participation in 2013, engagement increased almost as much as it did in 2012 when participation went up 20 percent.
The new system enabled outstanding projects to be recognized regionally before competing with initiatives from all over the world.
The Challenge competition started in 2009 as part of the celebration of the Company's 90th birthday. Its environmental focus closely aligns to Cummins' mission that "everything we do leads to a cleaner, healthier, safer environment." It was so popular initially that Cummins leaders decided to continue the program in each of the ensuing years.
Groups of employees compete in the Challenge to have their environmental community service project selected by a panel of judges as one of Cummins best of the year. Nineteen projects from around the world were chosen as Challenge winners in 2014.
Each will receive a grant of $8,000 from the Cummins Foundation that can go to the not-for-profit, non-governmental agency of their choice. Projects winning regional competitions receive an additional $2,000 from the Foundation.
Winning projects ranged from a massive recycling effort in Pune, India, to a beach cleanup in Peru and the restoration of a wetland area with native plants in Indianapolis, Ind.  A list of the winning projects is available by clicking on the following link: Cummins 2014 Environmental Challenge Winners.
In addition to the increase in participation, the amount of estimated greenhouse gas (GHG) removed as a result of the Challenge also went up from 19,000 metric tons in 2013 to 22,400 metric tons in 2014 – an increase of 18 percent. The total estimated GHGs removed is the equivalent of taking 4,709 vehicles off the road each year or planting or saving 573,584 trees.
About 16 percent of the 2014 Challenge projects involved water conservation or protection.  Projects in the Challenge conserved or made fit for use about 3.6 billion gallons of water or enough to fill 5,500 Olympic-size swimming pools.
There was also an educational component to many of the Challenge projects. About 55 percent had at least some educational facet, reaching more than 250,000 children and adults.
EVERY EMPLOYEE EVERY COMMUNITY
Cummins also saw a participation increase in the Company's Every Employee Every Community program, from 68 percent of eligible participants in 2013 to 73 percent of eligible employees in 2014.
More than 50,000 Cummins employees, joint-venture employees and Company contractors reported devoting some 364,000 hours to community involvement work as part of the EEEC initiative. The EEEC program allows participants to work at least four hours on company time on community service
projects and more if they have the approval of their supervisors.
Like the Environmental Challenge, most of this community service is performed through the Company's more than 200 Community Involvement Teams (CITs). They are encouraged by Corporate Responsibility leaders to focus on three priority areas – education, the environment and social justice/equality of opportunity – where Cummins employees have a demonstrated passion and expertise to make a difference.
Initiatives in 2014 ranged from a business wide project in Cummins Power Generation to help people with disabilities around the world, to a project in India to improve the quality of life in villages near the Company's Megasite in Phaltan, India to a program in Columbus, Indiana to help schools save on their transportation costs.
"It's fantastic to see our employees making a difference in this way throughout the Company," said Gwen Langley, Cummins Director of Community Engagement. "Our EEEC program helps us build stronger communities and attract and retain the kind of employees we need to succeed as a Company."
UNITED WAY
Donations from Cummins employees to the United Way in North America also increased from about $2.8 million in 2013 to nearly $3.12 million in 2014.
The United Way's mission is to improve lives by mobilizing communities to advance the common good by focusing on key community concerns. The organization both raises money to support community organizations and launches its own initiatives in areas such as education and social services.
Cummins matches the gifts made by its employees to the United Way so more than $6 million was donated to help communities in North America. Nearly 6,000 of the 12,000 eligible employees participated. Employees in Clovis, New Mexico; Elkhart, Indiana and Miramar, Florida had 100 percent participation rates.
Cummins has also launched matching gift programs over the past five years in China, India and parts of Asia-Pacific. These initiatives allow employees outside North America to also support local non-profits whose causes are meaningful to them.
"Last year (2014) was a very good year for helping our Cummins communities grow stronger," Levett said. "But the needs are immense and our work in this area is never truly done."