Cummins Powers Ginaf Rally Team at Dakar 2015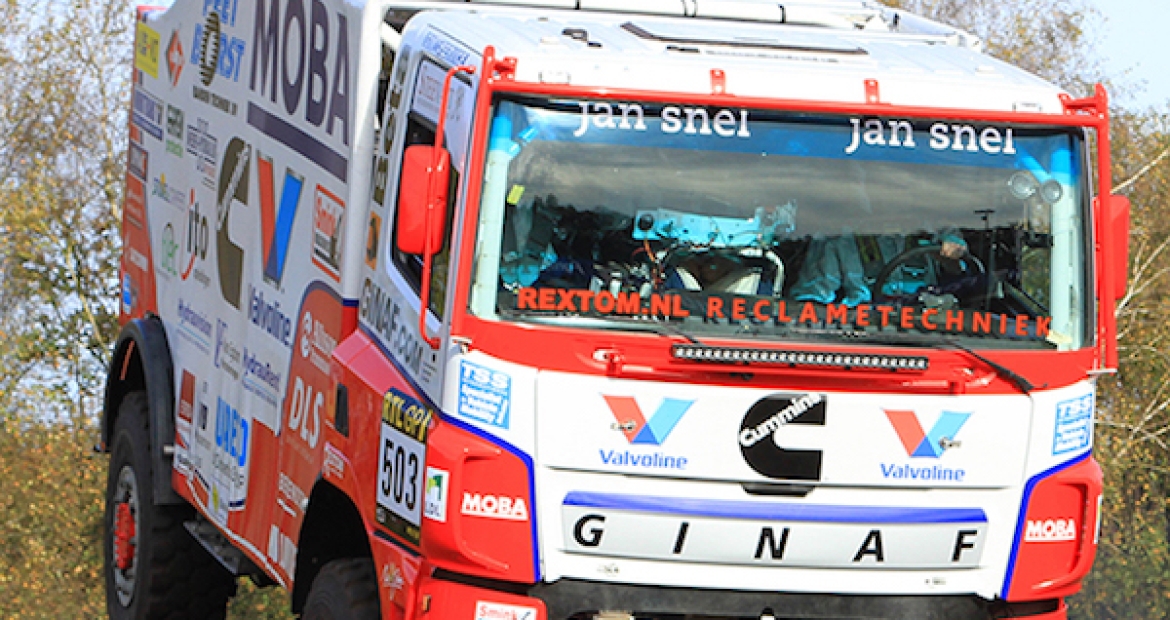 1/16/2015 Update - Standings after Stage 12
Twelve out of 13 stages are now complete at Dakar, and all three rally trucks (powered by Cummins) for the Ginaf Rally Power team remain in the thick of things.
After Stage 12 - which took competitors approximately 525 miles from Termas Rio Hondo to Rosario - Wulfert Van Ginkel sits in 12th place, Jos Smink sits in 17th place, and Edwin Van Ginkel sits in 22nd place.
The 13th and final stage of the Dakar Rally takes place on Saturday, Jan. 17th. Drivers will need to navigate 184 miles  from Rosario to Santa Fe/Buenos Aires.
You can follow along with the remaining competitors here as they hit the home stretch and travel from Rosario to Buenos Aires.
---
On Jan. 4, 2015, the green flag dropped on Stage 1 of the 2015 Dakar Rally. Arguably the world's premiere off-road endurance race, more than 600 competitors set off from Buenos Aires, hoping to log more than 5,600 miles across the treacherous terrain and brutal weather conditions of South America.
2015 Cummins Powered Ginaf Rally Power Truck at Dakar Pre-Prologue, The Netherlands
For the second year in a row, Cummins ISZ13 diesel engines have been installed in three rally trucks by the Ginaf Rally Power team. And why not? The extreme conditions of the Dakar Rally offer an ideal platform to showcase the performance and reliability of the Cummins ISZ13 engine.
The aim of the three year project between Ginaf and Cummins – which kicked off prior to the 2014 Dakar Rally - is to develop a new rally truck platform that is lighter, lower, more maneuverable and more reliable than its predecessor. Following the team's performance in last year's rally, the trucks were evaluated and a number of improvements were incorporated to target a higher finish in 2015.
"The 13 liter Cummins ISZ13 diesel engine continues as the power source, delivering up to 900hp with a maximum torque of 3500 Nm. Ginaf engineers have worked alongside our team to upgrade the engine calibration and turbo configuration for better performance and responsiveness," said Leen Stolk, Application Engineer Group Leader, Cummins Distribution Europe. "The driveline has been optimized with the integration of a fully automatic Allison transmission. Further improvements were made to the chassis, cabin and suspension."
Cummins QSX15 Powered Ginaf HD 5395 TS Mining Truck
Ginaf specializes in building heavy-duty vehicles for earthmoving and mining. They use this experience to develop rally trucks capable of overcoming the toughest conditions across Argentina, Chile and Bolivia. This year, Valvoline oils joined the partnership with Ginaf Rally Power, complementing the global alliance that already exists between Cummins and Valvoline.
To track the performance of the Ginaf/Cummins team at Dakar, visit the official Ginaf Rally Power website or www.dakar.com. You can also follow the team on Facebook and Twitter @GinafRallyPower.
The final stage of the rally takes place Jan. 17, 2015.
Additional Resources:
Cummins Europe – "Cummins and Ginaf Improve Racing Truck For Le Dakar 2015"