Thrift Store Gets Helping Hand from Supply Chain Employees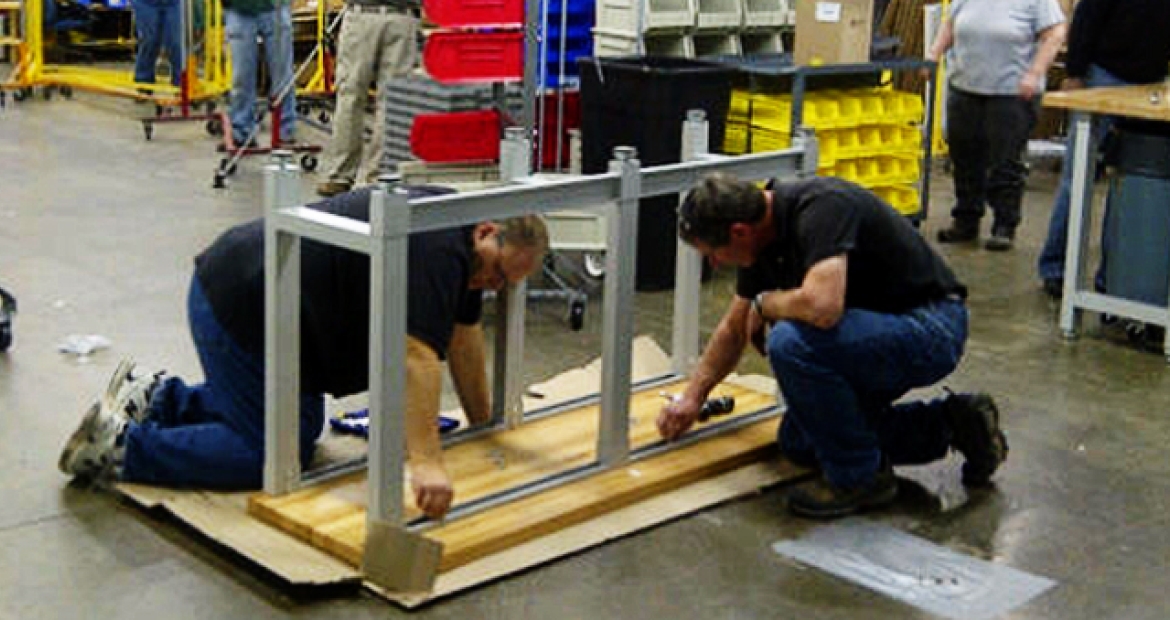 At certain times, the donations of clothing and household goods would come in so fast to the Sans Souci community thrift store in Columbus, Ind. that stacks of bags and boxes would extend nearly to the ceiling of the shop's warehouse.
"We would get hit with a lot of donations and we couldn't process them fast enough," said Sheryl Adams, executive director of the not-for-profit. "It was like a bottleneck at all times."
Mold would become a problem and while "Sans Souci" is French for "Without Worry," there was plenty of concern around the store, which serves low-income residents of the city who depend on its low prices. That's when staff members from Cummins'
Corporate Supply Chain group entered the picture.
Putting their skills to work, the supply chain employees redesigned the flow of goods in and out of the shop. And with a nearly $20,000 grant from The Cummins Foundation, they purchased dollies, tables, shelving and carts to help the store handle donations more efficiently.
"Our commitment to Sans Souci was to become a partner and bring some skills they might not have readily available," said JaneAnn Gifford, Director of Global Materials for the Supply Chain organization. "They chose the warehouse as an area of focus and given that, we worked closely with them to re-layout the facility.
"That meant changing the flow of donations, and purchasing the right equipment to help them become more efficient," Gifford added. "We spent time with Sans Souci employees at the facility to understand their operations, resources and constraints.
Understanding the context helped us develop a workable solution. Change takes time but the Sans Souci team has really committed to maintaining a well-organized warehouse."
By improving the way the material was sorted and stored, fewer articles of clothing got moldy. The organization also found it easier to separate recyclable material to keep it out of the waste stream.
The project reduced Sans Souci's landfill waste from 15 percent to 12 percent of total donations. The organization is now able to process donations more quickly and by reducing handling time employees can perform other important tasks.
Tobi Herron, Corporate Responsibility Manager for Corporate employees said the Sans Souci project is a great example of how Cummins' employees can put their skills to work to build stronger communities.
The Sans Souci project was one of 15 winners in the Company's Environmental Challenge, a competition among Cummins' employee-led Community Involvement Teams. The winning teams each receive a $10,000 grant for use by the non-profit of their choice.
The Corporate Supply Chain groupwill continue to work with Sans Souci  and both are looking forward to the collaboration.
"Cummins doing this is just awesome," said Sans Souci's Adams.