Cummins Explores Solar to Help Power Facilities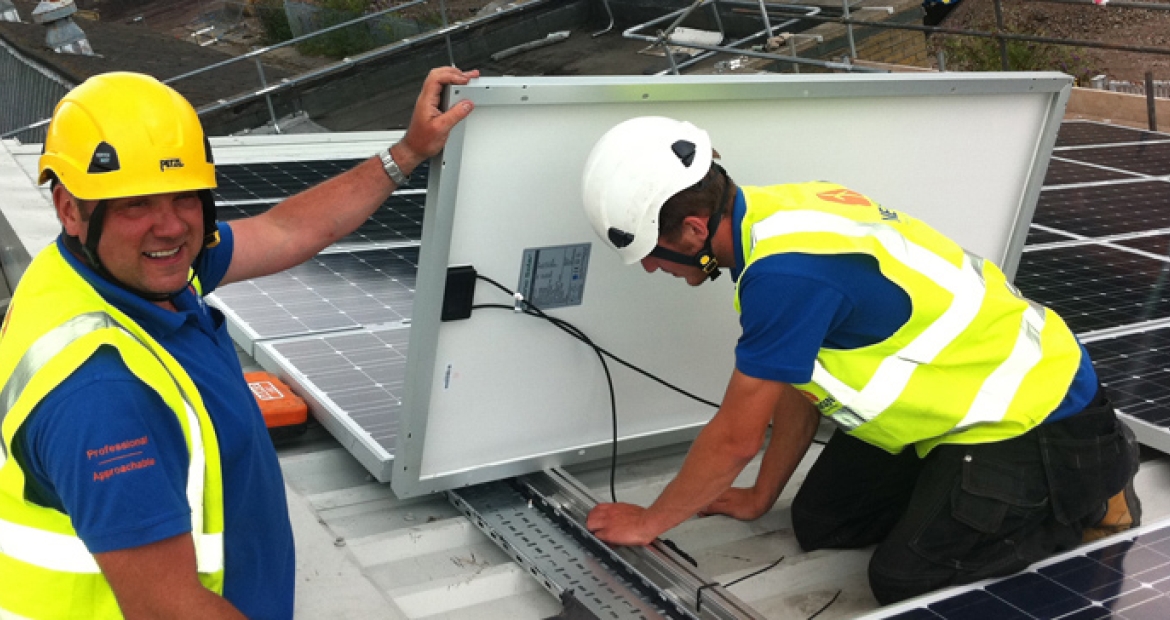 Solar savings
The five solar arrays installed at Cummins' facilities amount to a significant step forward in energy efficiency for the Company.
Here's a look at the environmental benefits:
Carbon dioxide reduction: 120 metric tons per year
Electricity reduction: 197 megawatt hours per year
Energy cost savings: $32,000 per year
For the first time, Cummins facilities in 2011 were powered in part by solar energy.
As of April 2012, five solar arrays, or groups of solar panels, had been installed at Cummins' facilities around the world, capable of generating up to 230 kilowatts (kW) of power. They replaced carbon-based sources of energy with a clean, free and inexhaustible supply of power.
While still modest compared to the Company's use of other sources of electricity, these solar arrays have energized Cummins' exploration of solar energy as one way to help shrink the Company's carbon footprint.
"One of our main corporate initiatives is to reduce our impact on climate change," said Mark Dhennin, Cummins' Director of Energy Efficiency for the Corporate Environmental Management Group. "We have set aggressive targets for further greenhouse gas reductions. That's why investing in renewable technologies such as solar is so important to shrinking our carbon footprint and achieving our energy goals."
Cummins Turbo Technologies in Huddersfield (UK) led the way, followed a few months later by installations at two Cummins Power Generation facilities in Minnesota (USA). An engine plant in Daventry (UK) and a Cummins Generator Technologies plant in Stamford (UK) complete the list of facilities now converting energy from the sun into electricity for their operations.
Attractive tax, rebate and feed-in-tariff incentives (which require utilities to pay a set price for power generated by private solar installations), combined with the financial and project-management support from the Cummins Energy Efficiency Team, led to the solar panel projects at those locations.
 Electrical Engineer Jennifer Hirst points to one of the solar panels in Huddersfield. Hirst has played a key role in advocating for the panels.
In Huddersfield, a 50 kW solar photovoltaic (PV) array was a significant step forward for Cummins in a renewable technology application on a large scale. Commissioned in August 2011, the project was initiated to lessen the reliance on the national electrical grid in times of uncertainty.
.In the United States, solar systems were installed in late 2011 at the new Cummins Power Generation corporate headquarters in Shoreview, Minn. and the manufacturing facility in nearby Fridley. Each system is capable of generating 40 kW – enough to power six Minnesota houses for 20 years, nonstop.
The Fridley team members began exploring solar when they found out that their closest neighbor had recently installed a solar system. Murphy Warehouse, adjacent to the Fridley plant, leases space to Cummins Power Generation. Cummins benefits from Murphy's installation in that it reduces the Fridley plant's carbon footprint.
"If they can do it, why can't we?" Jim January, Customer Service Excellence Leader for Fridley operations, recalls thinking when he learned about the installation at the warehouse.
The answer was that they could. With the support of the Cummins Energy Efficiency Team, each site that has installed solar arrays has received funding and project management support to leverage incentive programs from governments and local utilities.
Solar power is also being used at other Cummins' facilities – although in much smaller ways. At Cummins' Corporate Office Building in Columbus, Ind., solar-powered lights at crosswalks alert drivers to pedestrians crossing the road. And solar street lights were installed several years ago at the Cummins Power Generation plant in Wuhan, China.
Collectively, the five principle solar arrays are saving the Company about $32,000 per year while reducing carbon dioxide by about 120 metric tons annually.
Dhennin says solar power remains relatively expensive compared to other sources of energy and its use at Cummins is largely driven by the availability of government incentives and utility rebates.
But the completion of several larger demonstration projects such as the initiatives at Fridley and Huddersfield demonstrates that solar can play an important role in the Company's climate protection efforts.