Vocational Education: Changing Lives, Strengthening Communities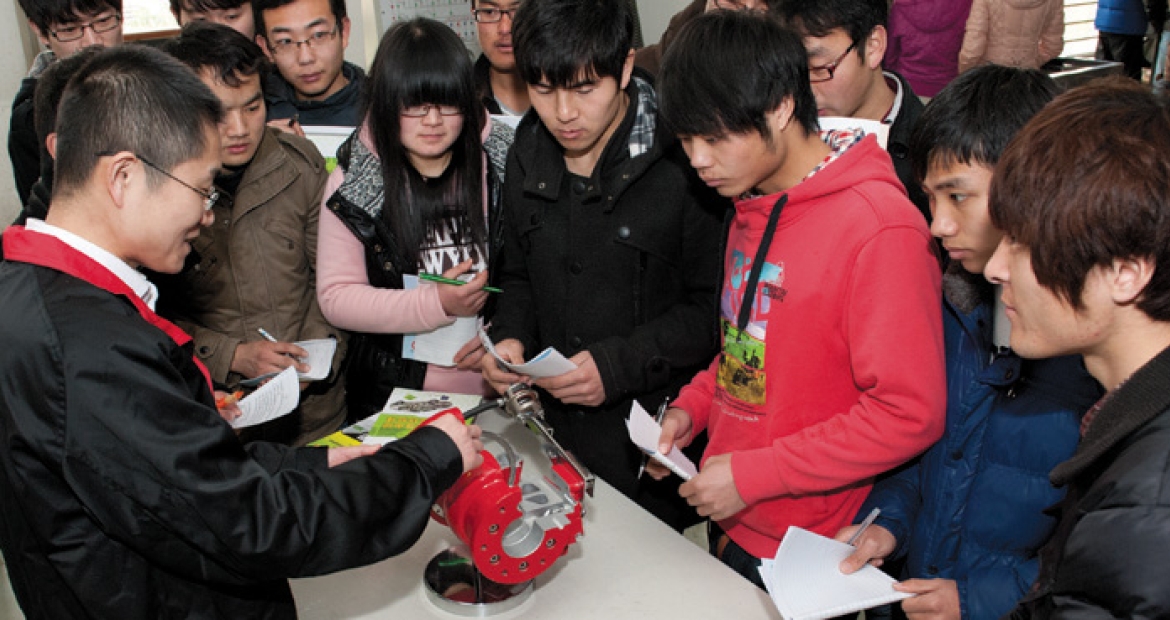 Mike Pritchard knows first-hand the value of vocational education. Growing up in a working-class neighborhood in London's East End, he entered a technical education and apprenticeship program at 16, figuring he'd follow in the footsteps of his father and uncle who worked at an automobile factory in Essex.
Today, Pritchard is the Director General at the Cummins Filtration Plant in San Luis Potosí, Mexico, leading an operation that produces 100,000 filters a day.
His career has taken him to Germany, Spain, Australia, the United States, China and now Mexico, where he's working with a local technical college to develop a vocational education program like the one where he started.
"A solid technical education can be the foundation for building a better life," said Pritchard, who joined Cummins in 1993. "Not only is it important for companies like Cummins who need workers with these skills, it can change lives."
From Xiangyang, China and Phaltan, India to Rocky Mount, North Carolina, and Jamestown, N.Y., Cummins leaders have been engaged in improving education, from early childhood instruction through university post-graduate programs.
About our cover photo
Zhao Yan is the Technical Project Leader at Cummins Turbo Technologies in Wuxi, China.
He also helps teach a vocational education program Cummins is supporting at an institute of technology in the city. He says vocational education is good for students, good for Cummins and good for communities, too.
"Our hope is students, the community and Cummins will benefit from the program," Zhao Yan said during an interview in early 2012 after meeting with about a dozen students to discuss the workings of a turbocharger.
"We hope through this program, we will give students a better understanding of real world technology and the needed skills (in manufacturing)," he added. "After that, we hope the students will pursue careers (in manufacturing) and we hope some of them will join Cummins."?
Many are focusing on the critical need for strong technical and vocational education programs to help prepare the workforce for the 21st century. Vocational education can provide portable skills that lead to high-paying jobs and ultimately stronger communities, consistent with Cummins' value "to serve and improve the communities in which we live."
To support these leaders, their communities and others like them, the Company and The Cummins Foundation are partnering to start a vocational education initiative in 2012, developing new programs and working with existing ones around the world to find approaches that will achieve positive results.
"The evidence shows that the lack of employable skills can be a barrier to success for many individuals and for the communities in which they live," said Jean Blackwell, Executive Vice President – Corporate Responsibility and CEO of The Cummins Foundation. "Solid technical training gives individuals a pathway to well-paying jobs and it creates a stable employment base for our communities."
A Global Problem
A recent report by the World Economic Forum estimates that 10 million manufacturing jobs worldwide cannot be filled today due to skills gaps. The lack of effective technical and vocational training programs is a critical concern at Cummins as it is for many manufacturers.
A recent Company study estimates that Cummins will need 37 percent more technical workers in the next three years, including service technicians, diesel mechanics, shop floor workers and more.
Cummins' plant leaders saw early on the potential for pairing their resource needs with the needs of their communities. Ken Anderson, Plant Manager at the Rocky Mount Engine Plant in Rocky Mount, N.C., has been working with area businesses through the local Chamber of Commerce to bring together high schools and community colleges in the region t improve vocational programs.
In addition to Anderson's coalition building, three community colleges in 2011 received diesel engines made at the plant so their students would have the latest equipment to work on.
"Education is essential to our strategy of sustainable improvement where we do business and in the communities where we live and work," said Anderson, who will become Cummins Emission Solutions Global Supply Chain Leader in August 2012.
"And it's part of educating and empowering the workforce of the future and creating the capacity for economic development in the community. In that way, Cummins' involvement is part of our being responsible citizens."
Thousands of miles away in Xiangyang, China, leaders of the Dongfeng Cummins Engine Company (DCEC) saw the same potential. The joint venture worked with local government and education officials to start a vocational education program to help teenagers in the Danjiangkou region.
Many rural teens were sent to the city to find work after a water diversion project displaced a number of families in the region.
"This project is a breakthrough in two aspects," said Wang Ning, Deputy General Manager of DCEC, who is in charge of the initiative.
"First, it is a vocational education program, which aims at solving the most urgent needs of the migrant families," he said. "Secondly, DCEC has leveraged its multiple resources to assist the families, including financial resources, training and job opportunities, to ensure a satisfactory outcome."
The program also helps the joint venture, which is providing teachers and other support.
"Through the vocational school, we believe we can cultivate highly skilled personnel who will meet the development requirements of DCEC," Wang Ning said.
Learning Laboratories
With its history of involvement in wide-ranging educational endeavors, its global reach, its expertise in skilled manufacturing and product services, Cummins is uniquely positioned to help address the technical skills gap.
In 2011, the Company launched a global initiative, sponsored by Chairman and CEO Tom Linebarger, to expand vocational education and address the shortage of skilled workers.
To better understand the problem and to identify an appropriate response, the project team started by conducting numerous interviews in and outside the Company using Six Sigma process improvement tools.
The team then formulated a strategy based on its findings. Now, Cummins and The Cummins Foundation have launched TEC: Technical Education for Communities, an initiative to develop and grow an effective global technical education program.
The Company is currently working to identify at least six locations to serve as learning laboratories. Among the early implementation sites will be the Dongfeng-owned trade school in China as well as training sites in Phaltan, India and Casablanca, Morocco. Cummins will provide expertise and resources to these programs.
Going forward, project leaders will test a variety of approaches, identify best practices, and benchmark progress prior to recommending a global strategy for community technical education. The goal is to develop students with the skill sets to work at Cummins or wherever their interests might take them.
There are many challenges to surmount. In many countries, vocational education has a stigma and the curriculum often isn't connected to the needs of the labor market.
The TEC program will be sensitive to the market conditions, business needs and culture of each site. The training program in Phaltan, India, for example, is unique in that it is located in a rural part of the country experiencing an influx of manufacturing operations.
The Industrial Training Institute (ITI) is a 20-minute drive from Cummins' Megasite in India, a 300-acre campus that will be home to 10 Cummins' facilities by 2014.
Leaders from Cummins India are taking an active role, serving on the vocational school's Management Committee along with other regional industry partners.
The End Result
Talk to the students at the Industrial Training Institute and it quickly becomes clear what a transformative role vocational education programs can play in the lives of communities.
Reshma Karand, 16, says she enrolled at the Institute because she realizes that her options are limited unless she finds employment. Many teenage girls who live in rural villages like Nandal, India, find marriage is the more traditional alternative – Reshma has other plans.
"I am hoping that some industry may provide an apprenticeship to me which will help me get practical knowledge," she said. "With good teachers providing holistic knowledge – both theory and practical – I will be better positioned to get a good job."
Reshma and her friends, Sandya Maji Guidagad and Swati Abaji Guldagad, are among 45 girls who enrolled in ITI after they finished their 10th year of schooling. First, they will complete a year at the institute working toward a general trade certificate. A six month apprenticeship program follows at one of the area's manufacturing firms.
The inspiration to enroll came from female role models they met who worked at Cummins.
"I have seen girls employed in Cummins and they visited our school to inspire us to join the vocational stream," said Sandya Maji Guidagad.
"Technical jobs are not only for boys," she said. "We girls can also perform equally well."