SuperTruck Project is Ready to Take Off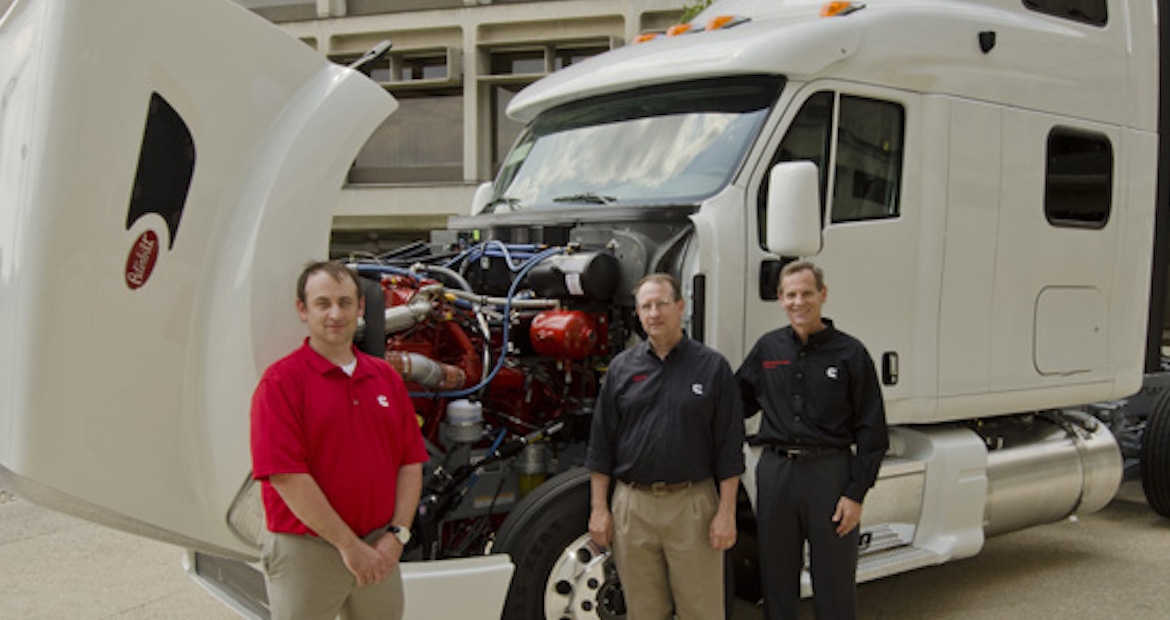 The future of trucking could well be unfolding this fall along U.S. Route 287 in north central Texas.
After months of testing concepts in trucks around the country, Cummins engineers and their colleagues in a public-private partnership will pull together the best of what they've learned and apply it to a single tractor-trailer.
With an aerodynamic exterior, an engine that captures waste heat and converts it to energy, and much more, their vision of the SuperTruck will officially hit the road.
"The opportunity to get out and see how all of these improvements work together is very exciting for everyone in the project," said David Koeberlein, Cummins Principal Investigator for SuperTruck.
Funded in part by the U.S. Department of Energy (DOE), the SuperTruck program was created to develop the next generation of tractor-trailers – a more fuel efficient and environmentally friendly version of what's on the road today.
There's still plenty of research and development to do, but the test-runs to start in October 2012 between Fort Worth and Vernon, Texas are an important project milestone.
For Cummins, it means a chance to see not only how the waste heat recovery system works in concert with the rest of the vehicle but also combustion efficiency gains achieved by redesigning parts of the engine.
"The program is really an extension of the work we've been doing on fuel efficiency for a very long time now; it's not something we just started on," said Wayne Eckerle, Vice President – Research and Development for Cummins. "The SuperTruck program takes a comprehensive look at how to maximize the fuel economy of the tractor-trailer combination as a single unit."
The engine work is only part of the SuperTruck project that Cummins is leading. Peterbilt Motors Company, a division of PACCAR, is designing a tractor-trailer exterior with less drag.
Eaton and Dana are developing drivetrain improvements. Delphi is working on a fuel cell to reduce or eliminate the idling of trucks when drivers are asleep or resting. And those are just some of the companies involved in the effort.
"Working on a project like this is exciting because it's about the entire vehicle. It's not just the tractor. It's not just the engine," said Scott Newhouse, Assistant Chief Engineer of Product Development responsible for the SuperTruck Program at Peterbilt. "It's the whole system working together, which is really exciting for us."
ABOUT THE PROGRAM
Energy officials initiated the multi-year program in 2010 with the goal of designing a heavy-duty Class 8 truck that achieves a 50 percent improvement in overall freight efficiency measured in ton-miles per gallon.
The DOE set the goal of attaining 40 percent of the overall efficiency gains from engine improvements with the remaining 60 percent coming from other vehicle systems such as aerodynamics, using lighter weight materials and reducing friction in the drive train.
The potential savings are significant. Class 8 trucks represent only about four percent of the on-road vehicles in the United States but are responsible for almost 20 percent of the country's on-road fuel consumption.
Through the SuperTruck program, energy officials want to see fuel economy increase from about 6.5 miles-per-gallon to 9.75 miles-per-gallon. That would save about $15,000 in annual fuel costs per long-haul truck.
The total cost of the SuperTruck initiative is about $270 million including DOE grants and matching expenditures from the project participants.
Cummins is one of the four prime contractors leading SuperTruck teams. Daimler/Freightliner, Navistar and Volvo are also leading SuperTruck projects, developing their own visions of trucking's future.
Cummins received a $39 million grant from the energy department in 2010. The Company expects to complete its work by April 2014.
Waste heat recovery
Cummins engineers have worked hard developing a waste heat recovery system for SuperTruck. The system is similar to how steam power plants operate. Here's a quick look:
First, the system extracts waste heat from the exhaust system via a pressurized refrigerant.
Next, the pressurized, heated refrigerant expands across a small turbine on the engine, creating power.
Finally, the power generated by the turbine goes back to the engine shaft, helping to push the vehicle forward and reducing the need for diesel fuel.
The SuperTruck team
Here's a quick look at the Cummins partners working on the SuperTruck project:
Cummins engine-related partners:
Cummins business units: The Engine Business, Fuel Systems, Turbo Technologies, Emission Solutions, Electronics and Filtration are all participating in the project to develop an advanced efficient engine.
Modine Manufacturing Company and VanDyne Super Turbos Inc.: Supporting engine development and exploration efforts.
Oak Ridge National Lab and Purdue University: These institutions have structured research programs to support development efforts.
Peterbilt vehicle-related partners:
Peterbilt Motors Company: Advanced aerodynamics of tractor-trailer and vehicle weight reductions.
Eaton Corporation and Dana Holding Company: Working on drivetrain improvements.
Delphi Automotive: Developing idle management systems.
Bergstrom Inc.: Developing climate control system.
Modine Manufacturing Company: Supporting the vehicle cooling system and waste heat recovery integration.
Bridgestone Corporation and The Goodyear Tire & Rubber Co.: Leading the tire development.
U.S. Xpress Enterprises: Helping with fleet operational questions and evaluations.
PROJECT PROGRESS
At about the half way point in the effort, Cummins officials say they are pleased with the progress so far.
"The Cummins SuperTruck program remains on schedule and our roadmaps seek to meet or exceed our targets," Koeberlein said.
Cummins is committed to reaching a number of milestones, including a 20 percent improvement in Brake Thermal Efficiency -- a measure of the energy efficiency of the engine. The waste heat recovery system is expected to accomplish about 6 percent of that 20 percent gain.
The Cummins team expects to build on that by reducing friction, adding a highly efficient exhaust aftertreatment system and efficiency gains within the combustion cycle of the engine resulting in more power for the crankshaft without a corresponding increase in fuel consumption.
"The 20 percent fuel efficiency improvement is a very technically challenging target to reach," Koeberlein said. "Waste heat recovery is a significant contribution towards this goal."
The other members of the SuperTruck team are contributing to the two program milestones on vehicle freight efficiency. These goals are to be over a complete vehicle operating cycle and measured in gallons of fuel consumed per ton of goods moved per mile traveled.
Vehicle improvements to accomplish this might include a more aerodynamically efficient tractor and trailer, improved tire technology, an advanced axle and transmission system, idle management and more.
The final program commitment is to develop and demonstrated in a test cell Brake thermal Efficiency even about the 20 percent improvement.
WHAT'S AHEAD
The route on U.S. 287, not far from Peterbilt's headquarters in Denton, will allow the team to test SuperTruck over real-world conditions: elevation change, start-stop conditions and speed limit changes within city limits.
"Utilizing multiple new technologies on a single vehicle can create integration challenges," said Peterbilt's Newhouse. "Working as a team, we understand the trade-offs and resolve them to ensure everything operates the most efficiently as a system. Individual component testing and vehicle testing are being conducted to ensure performance objectives are met."
While the technical hurdles are significant, Eckerle says it's important that team members not lose sight of one other critical factor.
"Our biggest challenge is really getting the costs for any and all of the technologies and systems we're working on down to where the fleets will want to buy them," he said. "They need to be durable and reliable, of course, but in the end they must offer a way to reduce total cost of ownership in order for a customer to use them."