Group Makes a Difference for Women at Cummins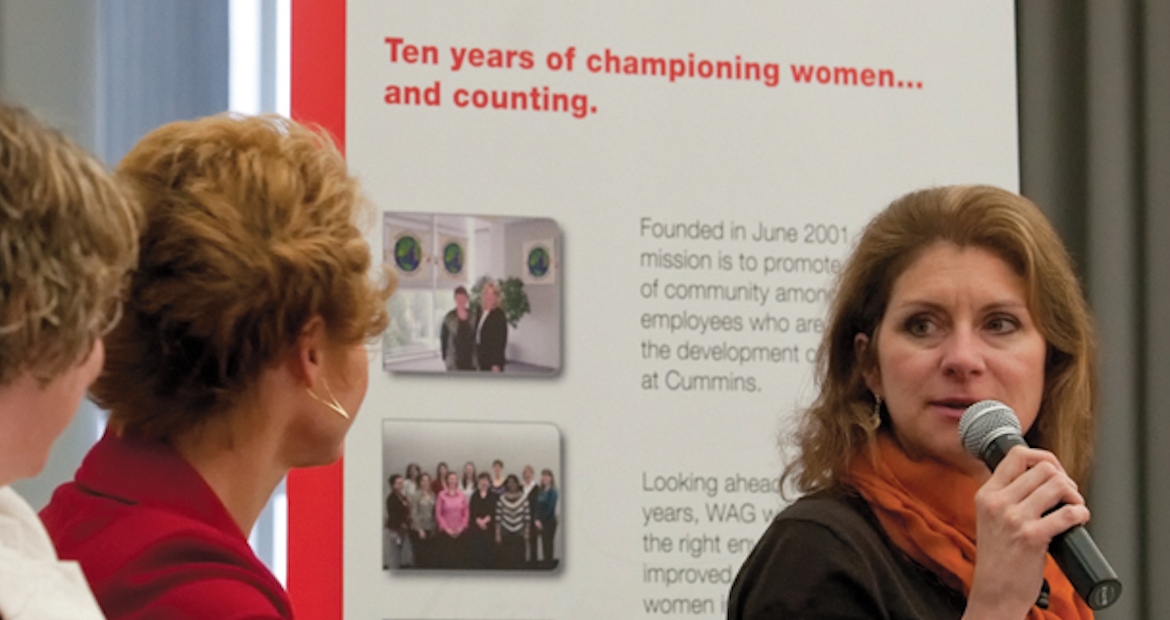 When Tina Vujovich was asked to sponsor Cummins' first Women's Affinity Group in 2001, she wasn't quite sure what to expect.
"I found several women who were dedicated to helping one another," said Vujovich, retired Vice President of Marketing and Environmental Policy at the Company.
"We put together a team that instinctively set about surveying the broad population of women at Cummins to learn what it was that they were looking for from the affinity group. Suddenly, we knew what we needed to do."
The result: More than 270 employees showed up for the first meeting. Today, the Women's Affinity Group (WAG) of Southern Indiana is one of Cummins' oldest affinity groups, closely tied to the needs of its target audience and providing assistance in key areas such as career development, business enhancement, recruiting and retention.
The WAG, which celebrated its 10th anniversary in 2011, is one of more than 40 affinity groups at Cummins located across the world. These groups are organized around a variety of dimensions of diversity: gender, race, ethnicity, special needs, veteran status and country of origin.
"Career development and networking have been long-standing initiatives throughout our existence," said Amy Liimatta, a member of the group since its inception who also served a stint as its leader. "It's something women very clearly wanted from the group."
Mentoring circles, for example, have been a very successful initiative offered by the group, bringing together successful women at Cummins and newcomers to the Company. In a mentoring circle, the protégés are paired with one male and one female mentor, allowing more women to have access to company leaders than with one-on-one mentoring.
"The inner workings are left to each circle to decide what will work best for their group," said Jessica Kuehner, Co-Leader of the affinity group now. "WAG provides guidelines to the circles on how to decide their topics, meeting agendas for the first few meetings to get the circles started and feedback gathered from past sessions on what works well and is popular."
Mentoring circles, however, are just one of many projects undertaken by the group. The WAG's Executive Speakers Series enables top executives at Cummins to share career advice with others. The WAG also developed Discover Cummins, an event to help new employees learn more about the Company by visiting booths sponsored by various functions within Cummins.
Today, Discover Cummins is hosted by LAUNCH – Leaders Advancing Uniting and Networking Cummins Hires, an affinity group that focuses on helping employees who have been with Cummins for less than five years.
The WAG has also successfully campaigned for rooms in many Cummins facilities for nursing mothers.
Finally, the group frequently works with women's groups at other Cummins facilities around the world to help them launch their own affinity group and share ideas for programs.
Now, the affinity group's Co-Leaders Jamie Freeman and Kuehner are planning for the future and the issues the WAG will champion for the next 10 years.
"With strong leadership in place, and a large, active membership," they say, "the Southern Indiana WAG will continue to champion women for years to come."