Cummins' Hedgehog: Big Can Still Be Green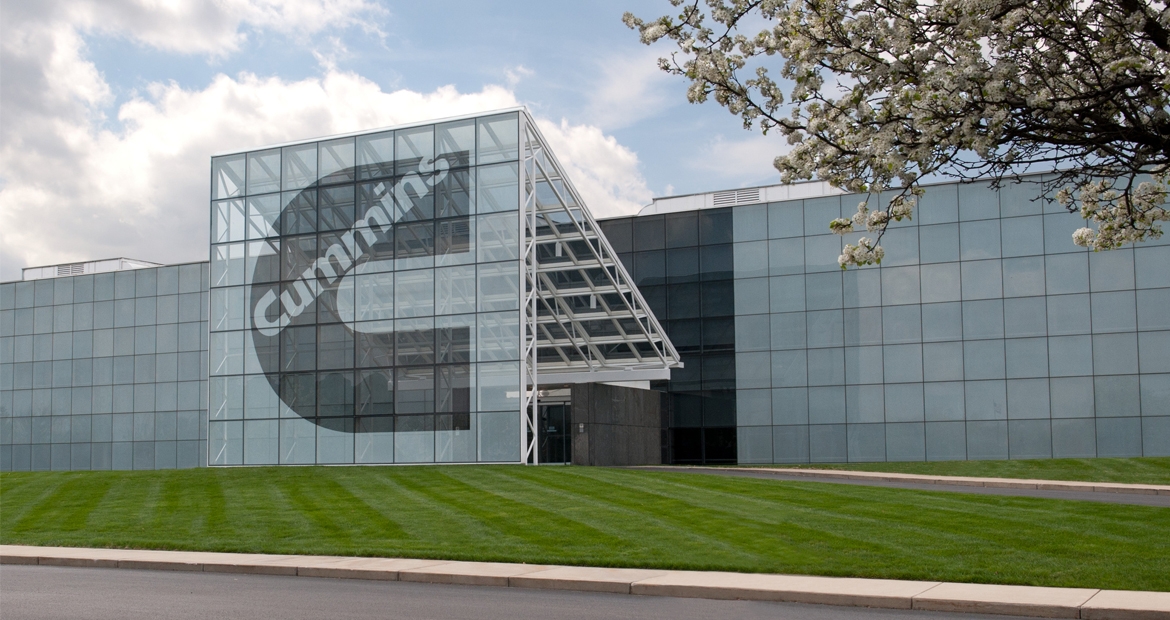 Mark Levett, Cummins Vice President and General Manager – High Horsepower Business, talks about the QSK95 engine at its unveiling in Seymour, Ind.
It's hard to imagine something eight feet tall, 14 feet long and capable of producing 4,000 horsepower could ever be considered "green."
But Cummins' new 16 cylinder QSK95 engine, the largest high-speed diesel engine the Company has ever built, has a number of environmentally friendly qualities.
Foremost among them: the engine, nicknamed "Hedgehog," will meet the most stringent emissions standards, including U.S. Environmental Protection Agency (EPA) Tier 4 Final regulations that take effect in 2015. The EPA regulations cover the off-highway, marine, locomotive, and power generation markets.
"A key achievement of our combustion analysis-led work is that the QSK95 makes no performance compromise to meet very low emission standards – an advantage that few, if any other, large high-speed or medium-speed engines will be able to claim for Tier 4," said Jim Trueblood, Vice President – Cummins High Horsepower Engineering.
The Hedgehog platform was unveiled Nov. 1, 2011 at the Seymour, Ind. Engine Plant where it was fired up for Cummins employees, reporters and potential customers. The engine is being marketed for use in passenger and freight locomotives; boats, including tugs and towboats; mining and off-shore drilling and power generation systems.
To meet the very low emission standards in the EPA's Tier 4 Final, the diesel Hedgehog will use Cummins' Selective Catalytic Reduction (SCR) aftertreatment system, which has a proven track record for significantly reducing the Oxides of Nitrogen (NOx) associated with air pollution and smog.
The SCR system also achieves diesel fuel savings of five to ten percent with a corresponding reduction in carbon dioxide (C02), a key contributor to greenhouse gases
In addition to those environmental benefits, the Hedgehog was designed with remanufacturing in mind. Remanufacturing is big at Cummins. Some 50 million pounds of Company product were reclaimed in 2010 to be put back into use.
Working from a "clean sheet" on Hedgehog, designers were able to consider remanufacturing in almost every aspect of the engine.
For example, the engine block is made with a little extra metal so when it comes time for milling during remanufacturing, it will be easier to bring the block back to original specifications.
Electronic Control Modules in the engine can detect stresses and in some cases alter engine operations to reduce that stress. And snap-in parts designed to absorb wear can extend the life of other more critical parts.
"High horsepower customers demand that high horsepower parts are used until they are at their full life limit," said Doug Free, a Senior Technical Advisor on Hedgehog who formerly worked in remanufacturing at Cummins. "Then, they insist we remanufacture them for even more life. They want their money's worth out of every part!"
Creating a new engine platform also allowed engineers to design Hedgehog with cleaner-burning natural gas in mind.
Abundant supplies of natural gas are becoming more readily available at lower prices than diesel. That is expected to significantly increase demand for spark-ignited natural gas engines over the next several years. Leveraging the base architecture of Hedgehog's diesel engine, the gas platform will be fully optimized to deliver market leading performance.
"The gas engines will not be just a derivative of the diesel engines, but uniquely designed for gas," said Mark Levett, Cummins Vice President and General Manager – High Horsepower Business.
"The Hedgehog team has done a remarkable job of translating the voice of the customer into key design features," added Srikanth Balasubramaniam, Director – High Horsepower Natural Gas Business.
About 150 engineers have been working on the engine project and over $100 million will be invested to establish a new production line and test facilities at Seymour.
And this Hedgehog will be growing even larger. Plans are in the works for the QSK120, adding four cylinders while using the same platform to achieve over 5,000 horsepower.