Cummins First Electric Vehicle Inspires Next Generation of Engineers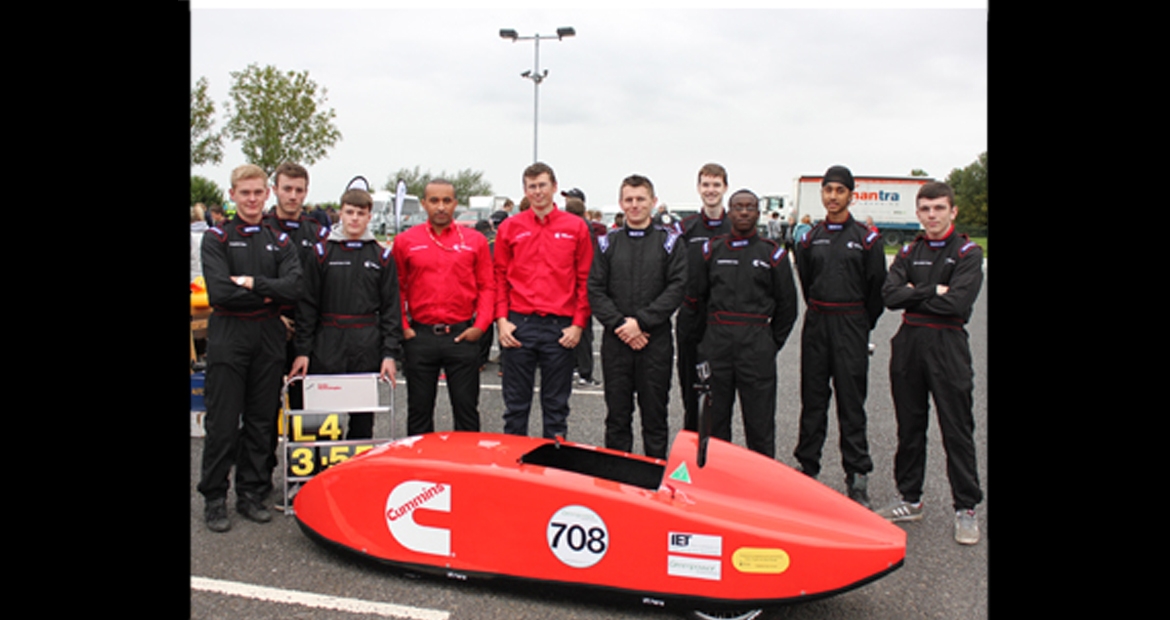 In order to help fulfill its future technology needs, Cummins Turbo Technologies is educating and developing next generation engineers through a project to design and build an electric race car. This is the first in-house developed Cummins electric vehicle.
With the advancement of new electric and hybrid technologies picking up pace such as electrification and stop-start technologies to improve commercial vehicle fuel efficiency and reduce CO2 emissions, Cummins Turbo Technologies needs to understand what the impact of these new automotive technologies will be on their air handling technologies.
Through this project Cummins Turbo Technologies is developing the skills of the next generation of engineers as well as inspiring and motivating engineers of the future, ensuring that the company is in a position to meet the future technology needs of the automotive market.
Developing the Next Generation of Engineers
The project was conceived, as part of the UK Greenpower Education Trust, to help attract, train and develop the skills of Cummins' engineers by competing in a national engineering competition as well as inspire and motivate the next generation of engineers to study science, mathematics, engineering and technology (STEM subjects) at school.
The Greenpower competition, which has been running for 15 years and holds 30 events per year, has attracted over 500 schools and 10,000 school children to compete by building and racing their own electric car. Cummins has been involved for a number of years helping school teams in various locations around the UK.
Cummins will continue to support the various school teams near its UK sites in Darlington, Huddersfield, Daventry and Stamford but are now extending into the 'Corporate Challenge' to compete against other engineering companies.
New Product Development
The Corporate Challenge Vehicle Project was approached using the Cummins Value Package Introduction (VPI) process to give new Cummins employees the best opportunity to learn about the tools and processes involved in developing a new product as well as giving the project a successful structure. Apprentices from Cummins Turbo Technologies completed the project during their first year of training and by taking on this project, the apprentices have not only developed their knowledge and practical skills - but helped to promote engineering as an interesting career.
Cross Functional Engineering Expertise
A cross functional project team from across Cummins Turbo Technologies was first put together, which consisted of engineers from Advanced Engineering, Aerodynamics, Mechatronics, Actuators and Sensors, Sub Systems Engineering, Current Product Support and Service. Benchmarking was carried out on the competition, then simulations were run to understand what the critical design parameters were for success. From this input, the design was created with the objective of having a vehicle capable of winning the event outright. Design tools used included 3D Computer Aided Design (CAD) modelling, Computational Fluid Dynamics (CFD) predictions of aerodynamic performance and finite element analysis of suspension parts to improve stiffness. Rapid prototyping was used for bodywork visualisation and manufacture of several car parts. Mechatronics engineers advised on the integration of the 22kg 24 volt battery power pack, 500W drive motor and associated motor control systems for the electric vehicle. They supported the performance monitoring of the electric vehicle via an in-house developed networked, modular fault tolerant on board data logging system with integrated GPS tracking and remote telemetry capability.
In-House Designs Developed
Seven first year Advanced Mechanical Engineering apprentices then took the designs and with the support of their college tutors learnt the skills to machine, fabricate and assemble the vehicle over a four month period. Cummins engineers advised and guided when roadblocks arose and redesigned parts where improvements were identified during early testing – just as we would for a prototype turbocharger design. The final design included various interesting features such as an aluminium honeycomb sandwich panel chassis for a lightweight yet strong structure, minimal rolling resistance from high pressure tyres, glass fibre body giving an ultra-low drag coefficient of 0.22 Cd and in-house designed data logging and telemetry to provide live data during the events.
Greenpower Championships
Before the Corporate Challenge championship race on 23 September 2015, the team had the opportunity to display the car at the Croft Motor Circuit round of the Greenpower championship. This allowed them to demonstrate to up to 300 school children what they had designed and developed as well as allow the apprentices to talk to the students about what a career in engineering involves. Staff from Cummins Engine Plant, Darlington were also supporting the event and school teams competing. At a recent global technical event at Huddersfield, the apprentices also stepped forward to give presentations to 30 Senior Cummins' Technical Leaders, creating interest in the project around the world.
Delivering Future Cummins Engineers
During the project the first year apprentices have not only had the opportunity to develop their knowledge and practical skills, but it has enabled them to get to know Cummins people and processes before they start working at the Huddersfield site to complete their four year apprenticeship program. Part of the knowledge gained by the apprentices has been seeing how engineers solve problems and understanding that good communication is necessary to help ensure the project delivers the right result, as well as delivering engineers for the future. One of the apprentices, Eddy Killoran commented, "This is the first fully electric vehicle to be completely designed and manufactured by Cummins, so to be part of this project is a huge privilege. The project has got the Cummins apprentices thinking about sustainability from a young age as they are the future of the engineering."
As the industry shifts to improve commercial vehicle fuel efficiency and reduce CO2 emissions, Cummins Turbo Technologies is developing its next generation of engineers to understand and fulfil the future technology needs of the company through the Greenpower project.