Get Your Assessment Information In Minutes
or get up to a $250 credit
No one knows a Cummins engine like our service team, and we have the technology to fully assess your engine in just minutes with Immediate Assessment. When you visit your North American Cummins Sales and Service centers, we'll keep your world Always On.
When you bring your vehicle to a participating Cummins Sales and Service location, we guarantee that your assessment is complete within 15 minutes of interviewing with one of our service advisors or we'll provide up to a $250 credit toward your repair.*
The step-by-step process
Visit a participating service location
A service advisor performs engine assessment
In 15 minutes or less, you receive a detailed report of any engine issue
Improve your service experience
No service bay needed for engine assessment
Get potential engine issues assessed in minutes
Helps you plan your day around repair time
Backed by Cummins service expertise
Find a Location   Schedule Service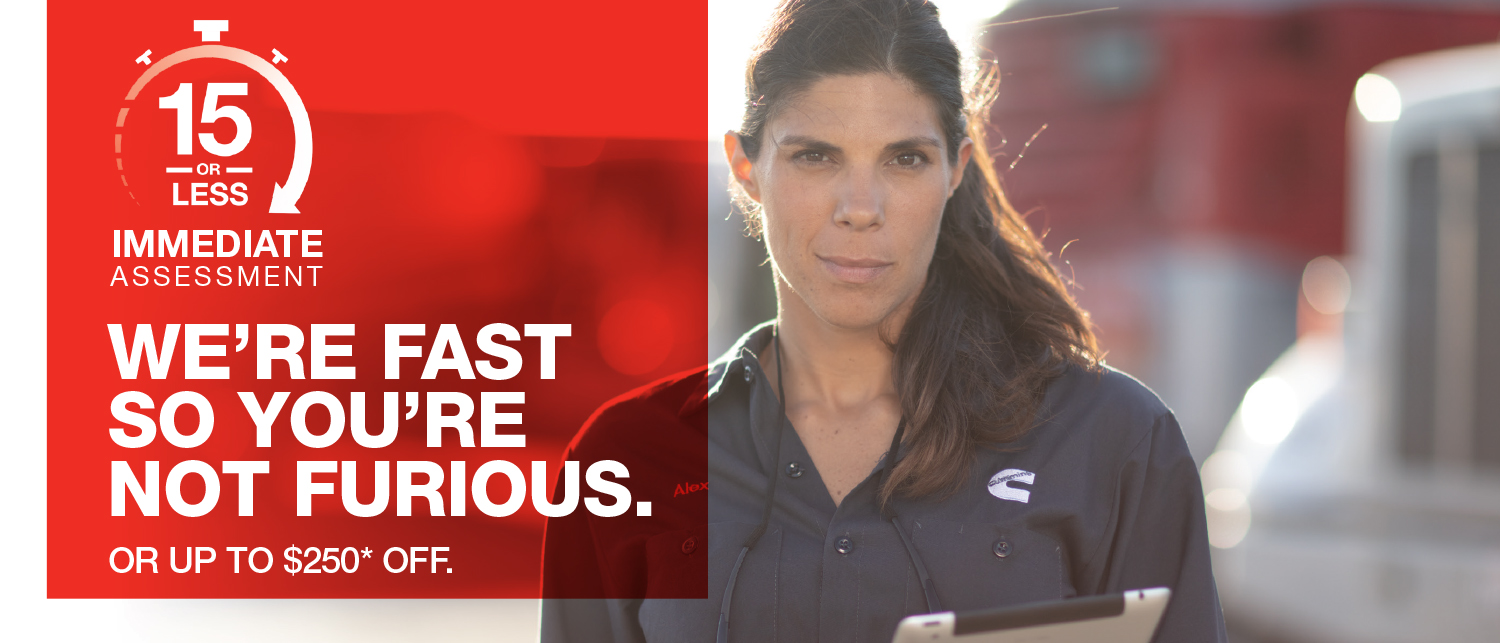 ---
*Immediate Assessment Guarantee is valid for in-shop service events only and performed ONLY at participating Cummins Sales and Service locations in the US and Canada during normal business hours. Immediate Assessment Guarantee is not available at the following Cummins Sales and Service locations: Canada: Montrose, PEI, Wabush, NL, Kamloops, BC, Hinton, AB, and Kenora, ON; US: Tallahassee, FL, San Juan, PR, San Leandro, CA, Santa Fe Springs, CA, Fenton, MO, Corpus Christi, TX, Shreveport, LA, and Morgan City, LA. Offer expires December 31, 2021. Some restrictions and conditions may apply including: (a) assessment must be on a 2007 or newer Cummins on-highway engine; (b) Assessment Guarantee NOT valid for generators or other Cummins products or applications; (c) excludes delays beyond our control (weather, safety concerns, power outages, assessment software failure, etc.); (d) excludes obvious catastrophic failure; and (e) the 15 minutes shall be tracked by our service representatives and shall begin upon completion of the interview with one of our service representatives. The $250 credit (i) must be applied to the service event resulting from the assessment and cannot be applied to any other service event, (ii) may not be applied to warranty work, and (iii) will not entitle the holder to any cash payment or additional credit if the cost of the service event is less than the $250 credit. Offer subject to change and may be discontinued without prior notice. Cannot be combined with any other offer or promotion.