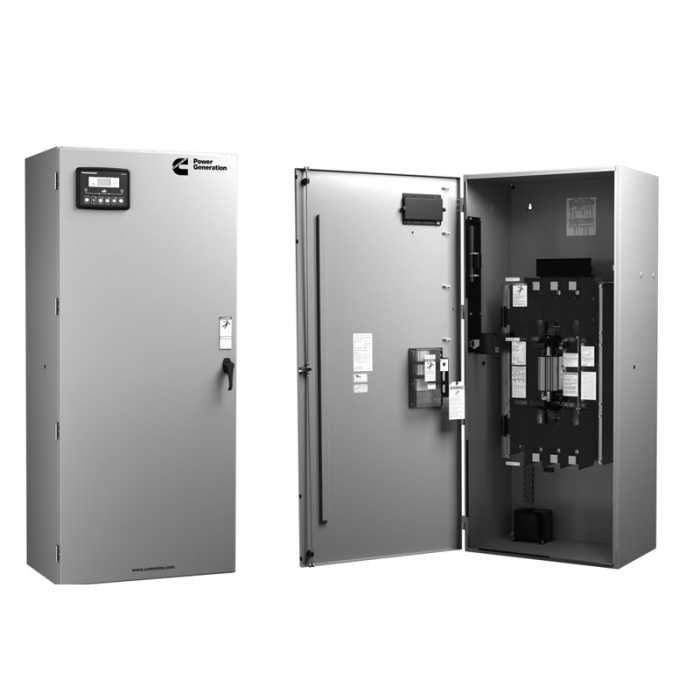 The OTEC automatic transfer switch series provides the basic features needed for primary source and generator set monitoring, generator set starting, and load transfer functions for emergency standby power applications.
Click Here to
Request a Quote
Overview:
The OTEC transfer switches monitor both power sources, signal generator set to start, automatically transfer power, and return the load to the primary power source once a stable utility is available. The fully integrated controller is designed for practical functionality, with LED indicators and digital pushbuttons for ease of operator use.
Cummins Power Generation switches are built to withstand thousands of switching cycles, ensuring maximum reliable operation. The benefits include:
Easy Service/Access - Plug connections, door-mounted controls, ample access space, compatible terminal markings simplify access.
Advanced Transfer Switch Mechanism - Bi-directional linear motor actuator provides virtually friction-free, constant-force, straight-line transfer switch action with no complex gears or linkage.
Break-Before-Make Action - Independent break-before-make action is used for both 3-pole and 4-pole/switched neutral switches.
Main Contacts - Heavy-duty silver alloy contacts with separate arcing surfaces and multi-leaf chutes are rated for total system transfer including overload interruption.
Mechanical Interlock - Prevents simultaneous closing of normal and emergency contacts.
Positive Interlocking - Mechanical and electrical interlocking prevent source-to-source connection through the power or control wiring.
Manual Operation - Manual operation handles, shielded termination, and over center type contact mechanisms allow effective, manual operation under de-energized conditions.
Microprocessor Control - Fully-featured PowerCommand® 40 microprocessor control is standard with all features, settings and adjustments software-enabled for ease of setup and accuracy.
Service Entrance Option Available
PowerCommand®40 Transfer Switch Control Features and Highlights:
Digital Display - The PowerCommand® 40 offers a clear back-lit LCD display, showing system operational status, contextual icons and warnings.
PC & Front Panel Configuration - The modules can be easily configured using the PC software. Selected front panel editing is also available.
Configurable Digital I/O - Configurable digital inputs and outputs make the PowerCommand® 40 fully flexible to a suit a wide variety of applications.
Communications Capability - Optional MODBUS RS485 communication module allows integration of the transfer switch into an external BMS or Scada systems.
Inbuilt Programmable Exerciser - Configure pre-set automatic starting and stopping of the generator as well as stopping the ATS carrying out a transfer (when in Auto mode). Run with load or without load.
Test Modes - Test system with or without load.
Wherever you are, whatever your job, Cummins expertise is Always On
Cummins offers customers unrivaled peace of mind when it comes to servicing and maintaining digital master controls. Best-in-class aftermarket capabilities via your dedicated local contact, supported by a global system of service technicians, engineers, 8,00 dealer locations and 500 part distribution facilities in over 190 countries spread across 6 continents.