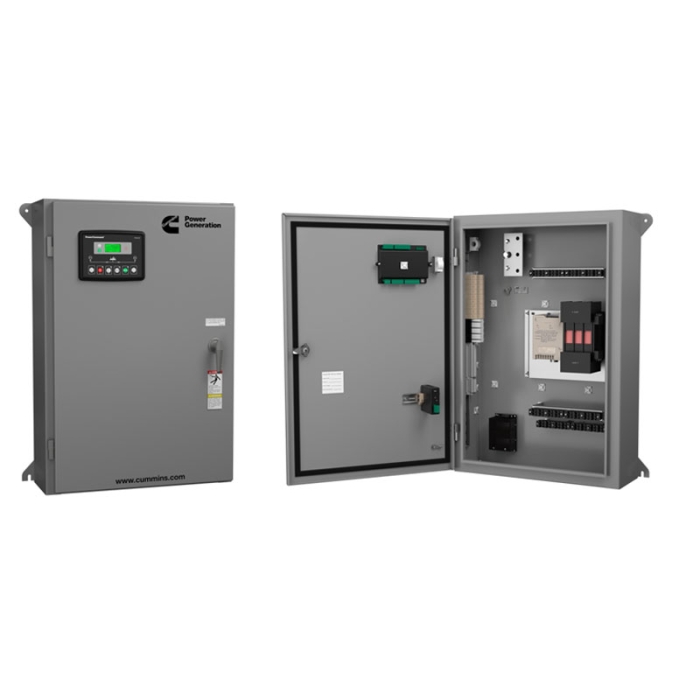 The GTEC automatic transfer switch combines reliability and flexibility in a small, economical package for normal and generator set source monitoring, generator set starting, and load transfer functions. GTEC automatic transfer switches are ideal for IEC emergency, standby and optional standby applications.
Click Here to
Request a Quote
Overview:
The microprocessor control of the GTEC transfer switch monitors utility and emergency standby generator power. When utility power fails or is unsatisfactory, the control starts the generator, then transfers the load from the utility to the generator. When stable utility power returns, the switch automatically transfers the load back to the utility.
PowerCommand® 40-2 Transfer Switch Control 
A sophisticated microprocessor-based control with the basic features you need for primary source and generator set monitoring, generator set starting and load transfer functions for emergency standby power applications. The control features a highly customizable customer inputs/outputs which can be tailored to suit a wide range of application requirements.
Features of the control include:
Digital Display - The PowerCommand® 40-02 offers a clear back-lit LCD 4-line text display, showing system status, contextual icons and warnings. The display is also equipped with 9 red and green LEDs indicating operational status.
Diagnostics and Reporting - Detailed event logging with enhanced fault codes, alert lists, power event history, and source statistics enhances diagnostic capability during service events and provides the ability to meet any reporting requirements.
Modbus network communication - Modbus network communications capable.  Standard Modbus RTU RS485 connection (1 serial port). 
Dry contact (volt free) relays - Configurable volt-free digital inputs and outputs make the PowerCommand® 40-20 control fully flexible to suit a wide variety of applications.
PC & front panel configurations - The modules can be easily configured using the PC software.  Selected front panel editing is also available.
Ease of service and access - Built-in plug-and-play control with minimized point-to-point connections and compatible terminal markings simplify servicing.
Wherever you are, whatever your job, Cummins expertise is Always On
Cummins offers customers unrivaled peace of mind when it comes to servicing and maintaining digital master controls. Best-in-class aftermarket capabilities via your dedicated local contact, supported by a global system of service technicians, engineers, 8,00 dealer locations and 500 part distribution facilities in over 190 countries spread across 6 continents.