Cummins Marine
DockCommand Inboard Joystick
The next generation of joystick-controlled docking systems for pleasure boaters who want a smooth, stress-free day on the water. The first of its kind, you have the maneuverability of pods but with a proven straight shaft system, resulting in both easy docking and less maintenance.
Find a dealer
Cummins marine engines with DockCommand joystick
A new generation of joystick docking
Ideal for both new boats and repowers, DockCommand works with all of our Cummins recreational marine engines. This joystick system with single or twin engines paired to thrusters makes it easy to control your yacht, even in adverse conditions.
More than ever, boat owners want to take the stress out of departing and returning to the marina. DockCommand gives boat manufacturers the option to use existing plans and easily integrate this proportional joystick into their latest offerings.
Looking at repowering a boat and want the latest technology? You can install DockCommand during an upfit of your existing boat, making your cruising experience even more pleasurable and adding to the resale value.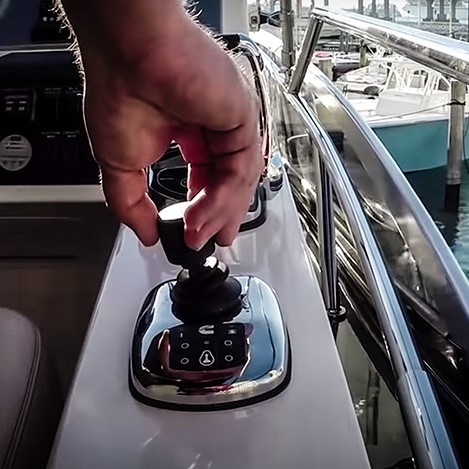 Easy maneuvering in close quarters  
Works with inboard engines with straight shafts – 
Pairs with single and twin engine arrangements  
Single handed operation 
Options to install on new boats and during repowers  
Supported by Cummins' full-service network and a comprehensive warranty 
Compatible with all Cummins marine engines recreational ratings including
Multiple helm station capability 
Cummins warranty provides peace of mind
Cummins has the best warranty and extended coverage plans in the industry, backed by the largest and most capable global support network. Whether you find yourself cruising the turquoise waters of the Caribbean, exploring idyllic islands off Italy or anywhere in between, rest assured Cummins has you covered.