Little Wasted. Everything to Gain.
Lean-burn natural gas generators produce electrical power. Waste exhaust heat is captured, re-purposed as thermal energy and stored as hot water for use when needed. Carbon dioxide released in the exhaust gas is scrubbed and converted to airborne CO2 fertilizer and then introduced to the greenhouse to promote plant growth.
Through the capture and reuse of waste exhaust heat and CO2,CHP achieves up to 90 percent energy efficiency and utilization. Compared to traditional utility- and boiler-powered greenhouses, this results in as much as a 30 percent reduction in energy costs.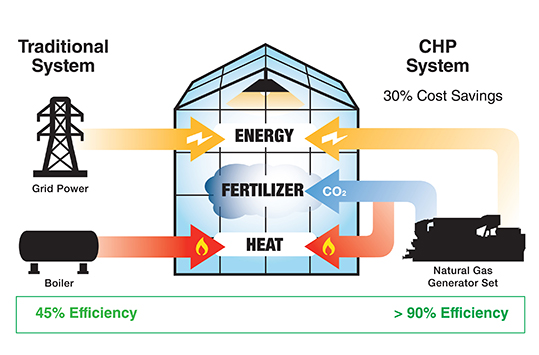 Turnkey Systems for Greenhouse Growers
Cummins provides comprehensive, turnkey CHP system management — from sizing, design and installation to ongoing operation and maintenance. Greenhouse growers can realize the full benefits of CHP simply by letting the experts at Cummins handle all the details.
Our greenhouse partners have implemented CHP to maximize efficiencies and achieve unprecedented profitability — and we're there with them every step of the way. With market pressures and available resources changing the greenhouse landscape in North America, many growers are looking to CHP to gain a competitive edge. Not only does Cummins provide the expertise to help get your CHP system up running now, we are committed to support you as your operations grow in the future.