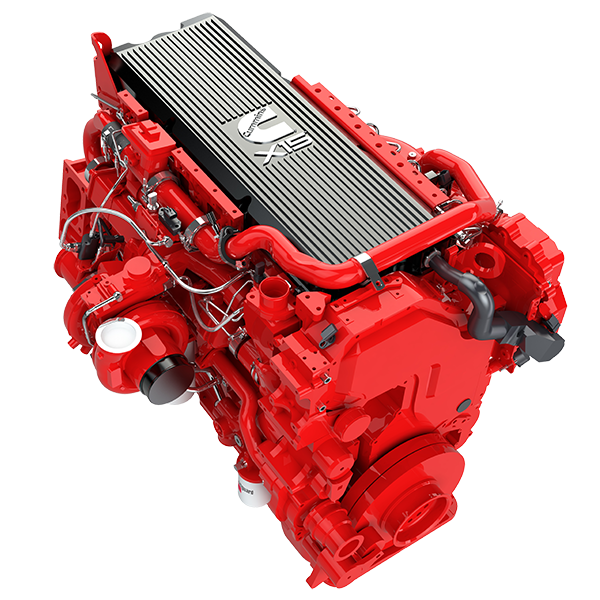 Power
450 - 675
hp
336 - 503
kW
Torque
1600 - 2050
lb-ft
2169 - 2779
N•m
Applications
Agriculture
Construction
Mining Engines
Rail Engines
Available Regions
US and Canada,
Russia,
Africa & Middle East,
Mexico,
Philippines,
Singapore,
Brazil,
Bolivia,
Uruguay,
Paraguay,
Argentina,
Colombia,
Central America,
Europe,
Korea,
Japan
Overview:
Proven To Deliver.
Cummins X15 is an undisputed leader in its class. Cummins award-winning VGT™ Turbocharger sets the industry standard for reliability and durability while delivering exceptional throttle response. This, together with the Xtra-High Pressure Injection fuel system delivers 15 percent greater horsepower with 60 percent more torque rise than its predecessor.
The Diesel Oxidation Catalyst (DOC), Selective Catalytic Reduction (SCR) and a Diesel Particulate Filter (DPF) are all proven technologies that have been highly successful in customer applications since the Tier 4 Final engines were introduced. No significant changes are needed to meet Stage V emissions regulations.
Next-generation cooled Exhaust Gas Recirculation (EGR) is used in order to deliver clean, reliable operation at higher output levels and demanding duty cycles commonly found for equipment powered by an engine in this horsepower range.
X15 owners also benefit from Cummins Connected Diagnostics™, remote monitoring technology that wirelessly connects the user's engine to product experts for instant analysis and recommended action the moment a fault code is generated on any piece of equipment equipped with a telematics.
X15 engines are available with Cummins Guidanz™ technology, which provides a seamless, process-guided package that streamlines the diagnosis and repair process, ensuring that the right parts, tools and support can be brought onsite to speed up repairs.