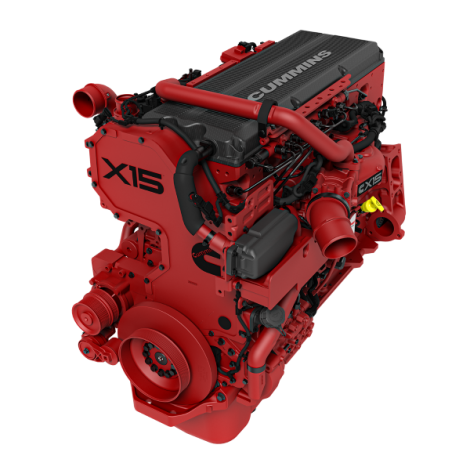 X15 Productivity Series (2021)
Power
430 - 605
hp
321 - 451
kW
Torque
1650 - 2050
lb-ft
2237 - 2779
N•m
The Power to Deliver.
You get the best of both worlds with horsepower and torque curves optimized for the most challenging applications. Whether you're transporting raw materials in quad-axle dump trucks, moving 130,000 lbs down the interstate, or fall into a multi-purpose category, you'll get access to whatever blend of power or efficiency you desire with the EPA2021 X15 Productivity Series.
Applications
Heavy-Duty Truck
Truck Equipment Manufacturers and Body Builders
Motorhome and RV Engines
Fire and Emergency
Vocational
Overview:
Easily recognized by the "V" designation on the ratings chart, Productivity Series ratings have a higher output capacity (up to 605 hp with 2050 lb-ft of peak torque) than any other engine in the 15-liter category. More important, the component set delivers superior responsiveness to throttle input – engineering-speak for plenty of muscle to get you rolling up to speed with a full load on hilly terrain.
The Best of Both Worlds.
2021 X15 Productivity Series ratings from 430-500 hp share a hardware set with the Cummins X15 Efficiency Series ratings. The higher output ratings from 565-605 hp use higher-capacity components from the X15 Performance Series ratings. This dual engineering strategy ensures that the X15 Productivity Series has the output required to meet power demands while optimizing fuel economy and operating costs. The rpm levels are set to match the job requirements of specific applications. Cummins continues to offer both Rear Engine Power Takeoff (REPTO) and Front Engine Power Takeoff (FEPTO) on X15 Productivity Series engines.
Improvements Across The Board.
The X15 ratings for 2021 provide greater turbocharger airflow and a high performance EGR cooler for overall air handling improvements and greater efficiency throughout the system. Even the X15's best-in-class engine brake has been improved with EGR Assist Braking. A more robust design means more reliable performance.
Uptime. All The Time.
When you purchase a piece of Cummins-powered equipment, you're getting more than just a powerful, reliable and durable powertrain. You're getting advanced technology and 24/7/365 coverage from Cummins Care, the most extensive and competent parts and service network (over 3500 locations) in North America. X15 engines are equipped with our proven Connected Diagnostics system for rapid analysis if a fault is triggered. Connected Calibrations,™ our Over-the-Air (OTA) engine customization technology, lets you upgrade your engine calibration on the job site. There's no need to visit a dealer to get the latest configuration. Everything we do is designed to reduce downtime and increase productivity – because that's the fastest route to greater profits.
Total Optimization.
Optimization with the X15 Productivity Series doesn't end with the base engine, in fact it only begins there. Cummins manufactures related technologies such as the Single Module aftertreatment, VGT turbocharger and Fleetguard filters to ensure that everything is integrated and optimized for your operation. Cummins has decades of experience in partnering with transmission manufacturers in order to collaborate on integrated powertrains. This means you're getting the best engine and best transmission for your application and they're optimized to work together seamlessly.