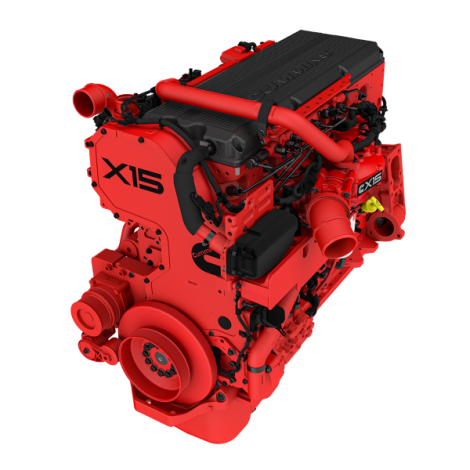 X15 Performance Series (2021)
Power
525 - 565
hp
391 - 421
kW
Torque
1650 - 2050
lb-ft
2237 - 2779
N•m
The Power to Perform
A refreshed X15 Performance Series is new to 2021 and designed to meet EPA and Greenhouse Gas Phase 2 requirements. While the X15 Performance Series is being updated from the 2017 version, many hardware changes have been in production since 2020 with the X15 Efficiency Series. Built with Uptime, improved Total Cost of Ownership and Ease of Operations in mind, the 2021 X15 Performance Series is the first choice for drivers that need the power to perform.
Applications
Heavy-Duty Truck
Fire and Emergency
Truck Equipment Manufacturers and Body Builders
Overview:
Uptime
The 2021 X15 Performance Series incorporated key product improvements launched with the 2020 X15 Efficiency Series and builds off the most successful product launch in Cummins history. With the best "Percent Zero Touch" and lowest "Touches Per Thousand" metrics to date, Cummins expects the trend to continue with the 2021 X15 product lineup. 
Cummins offers the longest service intervals in the industry – keeping you on the road and out of the service bay.
Lower Total Cost of Ownership
Providing up to a 2% fuel economy improvement can go a long way in reducing the amount of money spent of fuel per year. Add in the strongest engine brakes in the industry, and better lug-back capabilities to keep drivers in top gear longer, the X15 Performance Series gives you the power you need, with the fuel economy you always wanted. And with the longest service intervals in the industry, you'll spend less money on maintaining your equipment and get more out of it.
Ease of Operation
The X15 Performance Series has been optimized for heavy-haul, premium linehaul, and performance-oriented customers in mind. With three ratings designed for the traditional over-the-road customer, and up to 605 horsepower with the Productivity Series ratings, spec'ing the right rating for your operation has never been easier. And with Cummins PowerSpec Web, you can compare and configure your powertrain online.
To help drivers operate more efficiently, the X15 Performance Series now offers powertrain features like SmartCoast and Predictive Cruise Control for compatible powertrains.
Backed by Cummins
With over 3700 authorized service and sales locations in North America, you're covered. With a 2 year / 250,000 mile base warranty, and up to 5 years / 500,000 miles of extended coverage, we have your back.
To help configure your X15 Efficiency Series powertrain, find and contact your local Cummins expert or use Cummins PowerSpec Web to develop your own vehicle spec.