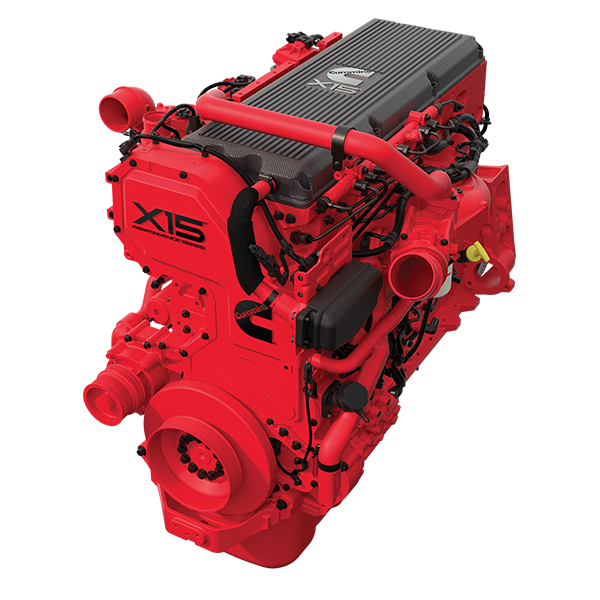 X15 Performance Series for Fire & Emergency (2017)
Power
505 - 600
hp
377 - 447
kW
Torque
1850 - 1850
lb-ft
2508 - 2508
N•m
Overview:
Redefining Performance. Increasing Value.
You want power? You want performance? You want reliability and durability? You can't do better than Cummins X15. Plus, you get the best fuel economy in the industry and the longest maintenance intervals, for lower maintenance costs. Connected Diagnostics that accelerate service accuracy and speed. Top that off with the largest, most capable parts and service network in the industry. It's a total package that adds up to the best resale value of any engine in the industry. With a Total Cost of Ownership that makes the competition look like a tiny speck out the side-view mirror.
We wrote the book on high-performance diesel engines. The Record Book.
It began as a radically innovative platform, complete with dual overhead cams, exceptionally strong engine braking and an even tougher head and block, for unrivaled dependability. The Cummins ISX15 rapidly outpaced the competition, becoming the industry's dominant big-bore engine over the past three decades.
But at Cummins, we're never satisfied with the status quo. So virtually every critical component, including the power cylinder, camshaft, turbo and fuel system, has been scrutinized, modified, upgraded and improved. All that makes the 2017 X15 a completely reinvented platform that delivers the best performance and dependability in the industry.
These enhancements improve air handling, for faster throttle response plus even stronger braking power at lower RPM. In addition to delivering the rewarding performance drivers want, the X15 delivers superior fuel economy over competitive engines. So you can blow past other trucks – as well as diesel stops.
600 Braking Horsepower From An Engine. Believe It.
The X15 is optimized to deliver the power to get you past traffic and over the next hill with 505 to 600 hp and 1850 lb-ft of peak torque. That is more than enough to get you out of the station, down the road, and up the steepest hill. But what's really impressive is what happens when you crest the hill and take your foot off the accelerator. That's when the most powerful engine brake in the industry kicks in, and you just ease on down the road.
 
| | | |
| --- | --- | --- |
| Advertised Horsepower | 505-600 hp | 362-447 kW |
| Peak Torque | 1850 lb-ft | 2508 N•m |
| Configuration | Inline 6 |   |
| Displacement | 912 cu in | 14.9 L |
| Lube Oil Capacity | 44 qt | 41.6 L |
| Biodiesel Compatibility | Up to B20 |   |
| Engine Braking Horsepower | Up to 600 hp @ 2100 rpm |   |
| Idle Speed | 600-800 rpm |   |
| No Load Governed Speed | 2130 rpm |   |
| Engine Weight (Dry) | 2,964 lb | 1,344 kg |
| Aftertreatment Weight* | 173-211 lb | 78-96 kg |
| Injection Pressure | 32,000 psi |   |
* Depending on Configuration
Cummins has been powering the fire service since 1937. Our new X15 Performance Series is designed specifically for fire service, with maximum performance.
Designed For The Fire Service.
Better Pump Control – Specific calibrations, for the best engine rpm or discharge pressure control when pumping.
No Derates – Regeneration or emissions related faults do not affect power output when you need it.
One Source for Service – Your local distributor supports both Cummins engines and Onan® generators.
Performance.
The Most Powerful Engine in Fire Service – The X15, with up to 600 hp, now gets even better performance with improved transient response, for faster acceleration.
Stay in Control – The most powerful engine brake in the industry, for high-traffic situations and better service brake life.
Better Acceleration, Faster Warmup and Stronger Engine Braking – The proven Cummins VGT® Turbo incorporates 15 years of technological improvements.
Reliability.
Optimized Emissions Control – Cummins Single Module™ aftertreatment has exceptional thermal efficiency, resulting in fewer regenerations, and meets OBD16 and GHG17 requirements.
Improved Oil Control – Up to 40 percent reduction in oil consumption through power cylinder improvements.
Say "No" To High Maintenance, "Yes" To Long Life.
Don't sweat the numbers. This engine doesn't need to be babied. With longer maintenance intervals, the less time your trucks spend in the shop, and the more runs you can take. 
Maintenance Item
Miles/Kilometers
Hours
Months
Oil and Filter
15,000 Mi
24,000 Km
500
6
Fuel Filter

15,000 Mi




24,000 Km

500
6
Overhead Adjustment
150,000 Mi
240,000 Km
5,000
48

Consult your Operation and Maintenance Manual for more information.
To access our complete brochure library, click here.