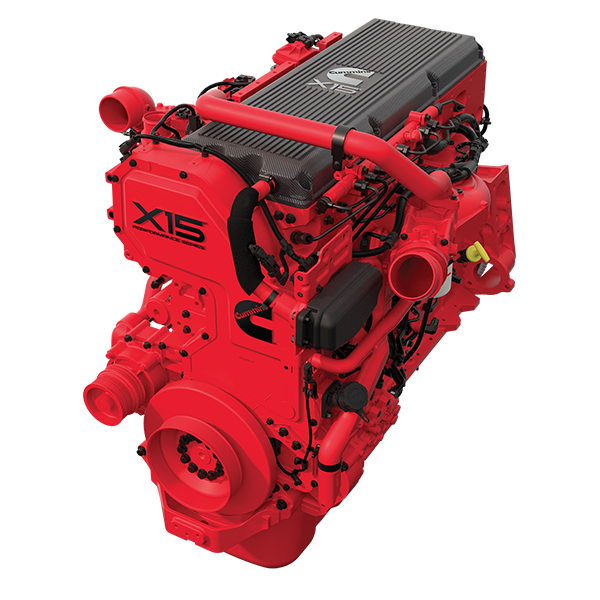 X15 Performance Series for Heavy-Duty Truck (2017)
Power
485 - 605
hp
362 - 451
kW
Torque
1650 - 2050
lb-ft
2237 - 2779
N•m
Overview:
Redefining Performance. Increasing Value.
You want power? You want performance? You want reliability and durability? You can't do better than Cummins X15. Plus, you get the best fuel economy in the industry and the longest maintenance intervals, for lower maintenance costs. Connected Diagnostics that accelerate service accuracy and speed. Top that off with the largest, most capable parts and service network in the industry. It's a total package that adds up to the best resale value of any engine in the industry. With a Total Cost of Ownership that makes the competition look like a tiny speck out the side-view mirror.
We wrote the book on high-performance diesel engines. The Record Book.
It began as a radically innovative platform, complete with dual overhead cams, exceptionally strong engine braking and an even tougher head and block, for unrivaled dependability. The Cummins ISX15 rapidly outpaced the competition, becoming the industry's dominant big-bore engine over the past three decades.
But at Cummins, we're never satisfied with the status quo. So virtually every critical component, including the power cylinder, camshaft, turbo and fuel system, has been scrutinized, modified, upgraded and improved. All that makes the 2017 X15 a completely reinvented platform that delivers the best performance and dependability in the industry.
These enhancements improve air handling, for faster throttle response plus even stronger braking power at lower RPM. In addition to delivering the rewarding performance drivers want, the X15 delivers superior fuel economy over competitive engines. So you can blow past other trucks – as well as diesel stops.
Brawn And Brains.
The value that Cummins is bringing to the trucking industry goes well beyond engine hardware. With the X15, Cummins is bringing the next evolution in remote connections with our Connected Solutions™ telematics features. In addition to our proven Connected Diagnostics system, we're introducing Connected Calibrations,™ with Over-the-Air (OTA) engine customization.
600 Braking Horsepower From An Engine. Believe It.
The X15 is optimized to deliver the power to get you past traffic and over the next hill with 485 to 605 hp and 1650 to 2050 lb-ft of peak torque. That is more than enough to get you off the line, down the road, and up the steepest hill. But what's really impressive is what happens when you crest the hill and take your foot off the accelerator. That's when the most powerful engine brake in the industry kicks in, and you just ease on down the road.
 
Advertised Horsepower
485-605 hp
362-451 kW
Peak Torque
1650-2050 lb-ft
2237-2779 N•m
Governed Speed
2000 rpm
Clutch Engagement Torque
1000 lb-ft
1356 N•m
Number of Cylinders
6
 
System Weight
3,152 lb
1,430 kg
Engine (Dry)
2,961 lb
1,343 kg
Aftertreatment System*
191 lb
87 kg
VGT® Turbocharger From Cummins Turbo Technologies
This turbocharger has variable geometry, for precision and responsiveness. The actuator is four to six times stronger than that of previous versions, for even better dependability. An enhanced design with a new impeller provides rapid boost and improved engine braking.
XPI Fuel System From Cummins Fuel Systems
The XPI system delivers superior performance, regardless of engine rpm. Multiple injection events per cycle improve fuel efficiency and enable smoother, quieter operation. Steel plungers and diamond like coated roller tappets make this the toughest XPI fuel system to date.
Single Module™ Aftertreatment System From Cummins Emission Solutions
A flow-through design offers better heat management, for improved efficiency. Increased ash capacity means fewer maintenance events. And it's up to 40 percent lighter and 60 percent smaller than two-part systems.
Fleetguard® Fuel Filters And Lube Filters From Cummins Filtration
These filters protect against corrosion and contaminants that can cause performance issues. The Fleetguard LF 14000NN lube filter provides less restriction, for faster flow and better cold-start capability, while still trapping nearly 99 percent of particles down to 4 microns.
High-Capacity Electronic Control Module (ECM)
The robust ECM manages the engine and aftertreatment system simultaneously, for optimum performance and fuel efficiency.
Cummins Engine Brake
The most powerful engine brake in the industry offers up to 600 bhp, adding control on downhill grades, and helping reduce service brake wear, downtime and replacement costs.
Connected Diagnostics™
This feature uses telematics to wirelessly connect the engine to Cummins for rapid fault diagnosis. It enables continued operation without risk in most events, maximizing uptime.
Power Cylinder Improvements
Combustion's hot. That's bad for your oil. The X15 incorporates an enhanced piston design that reduces the transfer of heat to the oil, increasing both durability and oil-drain intervals.
Say "No" To High Maintenance, "Yes" To Long Life.
Don't sweat the numbers. This engine doesn't need to be babied. With longer maintenance intervals, the less time your trucks spend in the shop, and the more loads you can carry. So instead of bleeding your wallet dry, you're stuffing it instead. It gives new meaning to "win/win."
Item
Severe
< 5.5 mpg
Normal
5.5-6.5 mpg
Light
>6.5 mpg
Oil Drain Interval
25,000 Mi
40,000 Km
35,000 Mi
56,000 Km
50,000 Mi
80,000 Km
Oil Drain with OilGuard1
--
--
Up to 80,000 Mi
130,000 Km
Fuel St 1 Filter
25,000 Mi
40,000 Km
35,000 Mi
56,000 Km
50,000 Mi
80,000 Km
Fuel St 2 Filter
25,000 Mi
40,000 Km
35,000 Mi
56,000 Km
50,000 Mi
80,000 Km
Diesel Particulate Filter2
250,000-400,000 Mi
400,000-640,000 Km
400,000-600,000 Mi
640,000-960,000 Km
600,000-800,000 Mi
960,000-1,300,000 Km

DEF Filter

250,000 Mi
400,000 Km
280,000 Mi
448,000 Km
300,000 Mi
480,000 Km
Valve Adjustment
500,000 Mi
800,000 Km
500,000 Mi
800,000 Km
500,000 Mi
800,000 Km
To access our complete brochure library, click here.