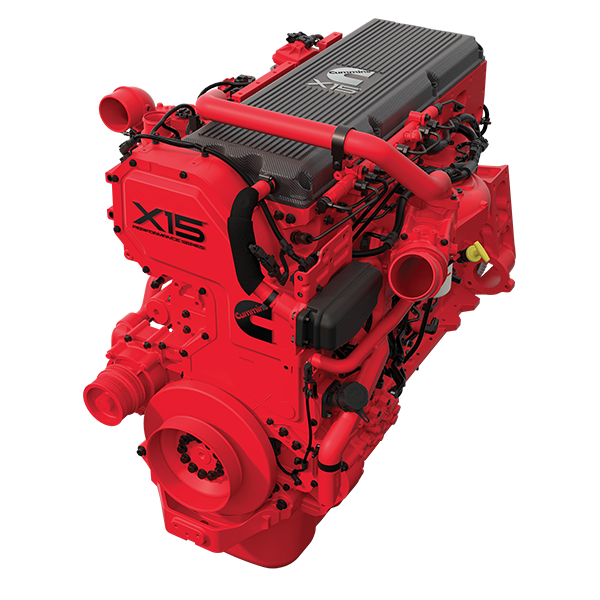 X15 Performance Series for Heavy-Duty Truck (2017)
Power
485 - 565
hp
362 - 421
kW
Torque
1650 - 2050
lb-ft
2237 - 2779
N•m
Overview:
Redefining Performance. Increasing Value.
You want power? You want performance? You want reliability and durability? You can't do better than Cummins X15. Plus, you get the best fuel economy in the industry and the longest maintenance intervals, for lower maintenance costs. Connected Diagnostics that accelerate service accuracy and speed. Top that off with the largest, most capable parts and service network in the industry. It's a total package that adds up to the best resale value of any engine in the industry. With a Total Cost of Ownership that makes the competition look like a tiny speck out the side-view mirror.
We wrote the book on high-performance diesel engines. The Record Book.
It began as a radically innovative platform, complete with dual overhead cams, exceptionally strong engine braking and an even tougher head and block, for unrivaled dependability. The Cummins ISX15 rapidly outpaced the competition, becoming the industry's dominant big-bore engine over the past three decades.
But at Cummins, we're never satisfied with the status quo. So virtually every critical component, including the power cylinder, camshaft, turbo and fuel system, has been scrutinized, modified, upgraded and improved. All that makes the 2017 X15 a completely reinvented platform that delivers the best performance and dependability in the industry.
These enhancements improve air handling, for faster throttle response plus even stronger braking power at lower RPM. In addition to delivering the rewarding performance drivers want, the X15 delivers superior fuel economy over competitive engines. So you can blow past other trucks – as well as diesel stops.
Brawn and Brains.
The value that Cummins is bringing to the trucking industry goes well beyond engine hardware. With the X15, Cummins is bringing the next evolution in remote connections with our Connected Solutions™ telematics features. In addition to our proven Connected Diagnostics system, we're introducing Connected Calibrations,™ with Over-the-Air (OTA) engine customization.