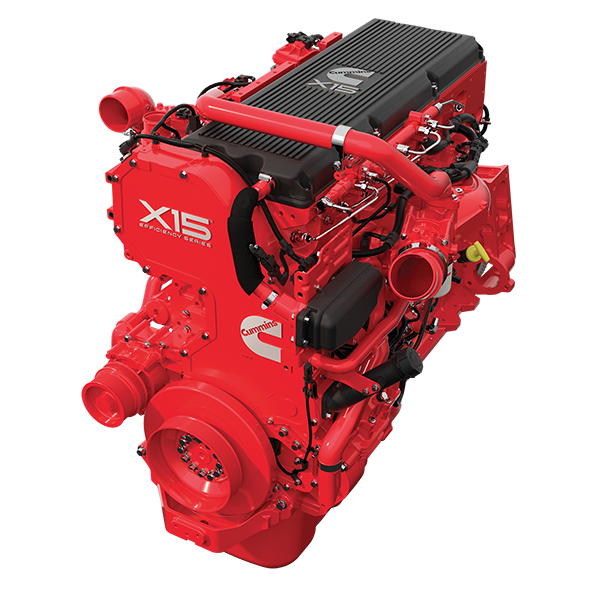 X15 Efficiency Series (2017)
Power
400 - 500
hp
298 - 373
kW
Torque
1450 - 1850
lb-ft
1966 - 2508
N•m
Overview:
Redefining Value.
The highest fuel economy in the industry. The longest maintenance intervals, for lower maintenance costs. Increased uptime, for greater productivity and profits. Technology that accelerates service accuracy and speed. The biggest, most capable parts and service network in the industry. Being able to choose the best components and put them together. Top it off with the best resale value of any engine in the industry, and you've got a Total Cost of Ownership that puts you in front of your competition.
More Horsepower. More Savings.
Whether you're hauling 80,000 pounds through the Rockies or you're an expedited shipper committed to delivering on a moment's notice, you need a big-bore 15-liter engine to get the job done – but not just any big-bore: You need the X15. Otherwise, you're going to be riding the right lane with your flashers on and getting passed by minivans. Not to mention, you'll be wasting fuel. Fact is, the X15 Efficiency Series will deliver best-in-class fuel economy on those kinds of runs, with up to 500 hp. The X15 500 is the ultimate package, pleasing drivers and accountants alike, and can be expected to drive our industry-leading resale value to even greater heights down the road.
Brawn and Brains.
The value that Cummins is bringing to the trucking industry goes well beyond engine hardware.
Rookies drive like pros with ADEPT.™ ADEPT interacts with automated manual transmissions, adapting to operating conditions to help even novice drivers operate as efficiently as your most seasoned and efficient professional.
The full suite of ADEPT features includes SmartTorque2, SmartCoast™ and Predictive Cruise Control. Together, they are proven to deliver up to 6 percent better fuel economy.
Additionally, Cummins is bringing the next step in remote connections with our Connected Solutions™ telematics features. Along with our proven Connected Diagnostics system, we're introducing Connected Calibrations,™ with Over-the-Air (OTA) engine customization.
Trust Makes All The Difference.
The most reassuring part of owning any Cummins-powered vehicle is knowing that we've always got your back. Cummins engine experts and our extensive training programs ensure service and support excellence you can depend on, no matter the situation. We are committed to the success of your business, which means complete dedication to working with you on everything from upfront vehicle and engine spec'ing to maximizing your vehicle uptime. You aren't just buying a Cummins engine; you're buying Cummins expertise and commitment, anywhere and everywhere your business takes you.