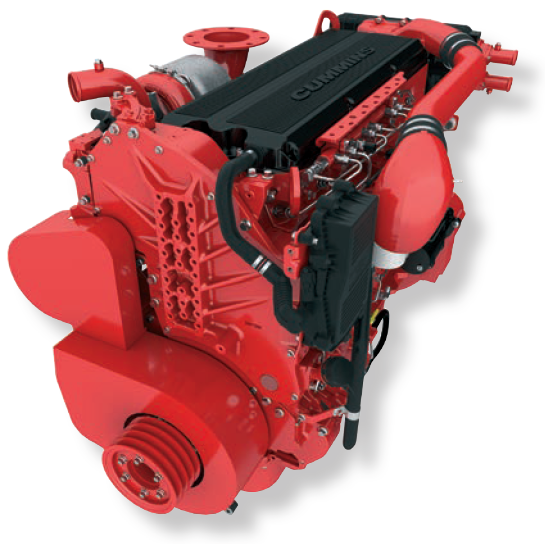 Power
450 - 600
hp
336 - 447
kW
Certification
Tier 3 / Stage IIIA, IMO Tier II
Overview:
Proven power for any marine need
No one has more riding on their engines than commercial and recreational marine owners. That's why the X15 engine's proven track record of over two million engines produced and in use matters. Available for both propulsion and auxiliary power for marine applications, the X15 has been specially adapted with corrosion-resistant, marine-grade materials. It includes complete engine protection capabilities, fuel sensor, gear pressure, and temperature monitoring as well as digital start/stop functionality. The X15 offers strong performance in an efficient envelope which makes it ideal for inland waterway applications.
Contact Sales         View the X15 Spec Sheet
Propulsion Power
Whether you're looking to power recreational pleasure cruises, a sport-fishing vessel for landing your trophy catch, a fleet of passenger fast-ferries or a pushboat that can move loads upstream in an inland waterway, there is an X15 propulsion rating that is right for your needs. Variable-speed propulsion ratings range from 456 - 608 hp (336 - 447 kW) with braking power of up to 600 BHP. The X15 gives you reduced fuel consumption, without reduced performance as an efficient option for a new build or a repower.
Auxiliary Power
Constant-speed auxiliary ratings for your power generation needs are available at 50 or 60 hz with 507 horsepower (373 kW). The X15 can be paired with the alternator of your choice, including Stamford AvK offerings.
Performance, Convenience, Dependability
Best-in-class power density yields exceptional performance from a compact package that's easy to install and maintain. Advanced high-pressure combustion technology has multiple benefits such as running cleaner, more efficiently, smoother and quieter for a low total cost of operation (TCO). Cummins is so confident in the total reliability of the X15 that we provide an industry-leading two-year comprehensive warranty, with an option to extend your warranty period, valid everywhere around the globe. Whether you are looking for a main propulsion engine or auxiliary power, Cummins X15 leaves the competition in its wake. The X15 meets IMO Tier II and EPA Tier 3 emission standards.