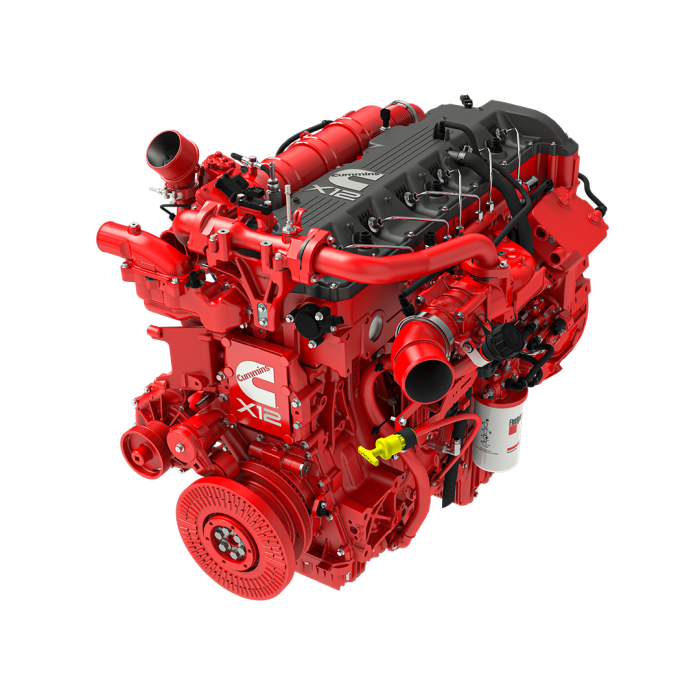 X12 (2021) for Motorhome & RV
Power
350 - 500
hp
261 - 373
kW
Torque
1250 - 1700
lb-ft
1695 - 2305
N•m
Available Regions
US and Canada,
Russia,
Africa & Middle East,
Mexico,
Philippines,
Singapore,
Brazil,
Bolivia,
Uruguay,
Paraguay,
Argentina,
Colombia,
Central America,
Europe,
Korea,
Japan
Overview:
For the 2021 X12 we've updated our engine with a focus on improved reliability, lower maintenance cost, better performance, while meeting more stringent EPA Greenhouse Gas standards. The good news for Motorhome & RV customers is that lower Greenhouse Gas emissions means improved fuel economy. We've been able to do this by optimizing our existing technology, rather than introducing new emissions equipment. 
For 2021, the X12 maintains the 600 lb. weight savings compared to other engines in this class and produces up to 500 hp and 1,700 lb./ft of torque. A new optional air compressor resonator gives customers the option to reduce engine noise both inside and outside the vehicle. The X12 also features extended maintenance intervals for oil and filter up to 18 months and fuel economy improvements of 2.5%.