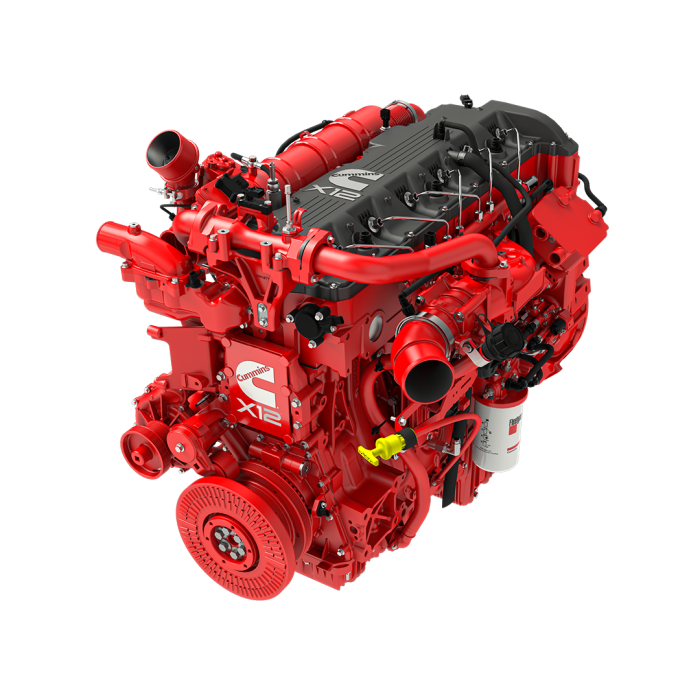 X12 (2021) for Heavy-Duty Truck
Power
350 - 500
hp
261 - 373
kW
Torque
1250 - 1700
lb-ft
1695 - 2305
N•m
Overview:
The X12 engine is an optimal choice for vocational and regional haul truck fleets that need maximum payload without compromising performance capability. Vocational customers with the EPA 2021 X12 will be especially pleased with the option to reduce engine noise both in operation and at idle through an air compression resonator. Plus, vocational ratings maintain a governed engine speed of 2000 RPM, which optimizes driving performance while allowing for greater flexibility in axle ratio and transmission selections. From soft surface to highway speeds, the X12 provides the performance needed to get the job done. 
In regional haul trucks, the 2021 X12 can be paired with the Endurant™ HD™ automated manual transmission from Eaton Cummins Automated Transmission Technologies. With this pairing comes the option for EX ratings, which offer features* like On-Ramp Boost, Predictive Gear Shifting, Predictive Engine Braking and Dynamic Power. Watch this short video to learn more about these features. Keeping efficiency in mind, the 1800 RPM governed speeds along with an optimized shift calibration with the Endurant HD means the X12 offers excellent fuel economy without sacrificing driving characteristics.  
Regardless of application, all 2021 X12 On-highway truck customers will have the option for a longer fuel filter, which allows for an extended fuel filter interval that matches the 75,000-mile (120,000 Km) market-leading oil drain interval. 
*Require Endurant HD transmission and GPS look-ahead data