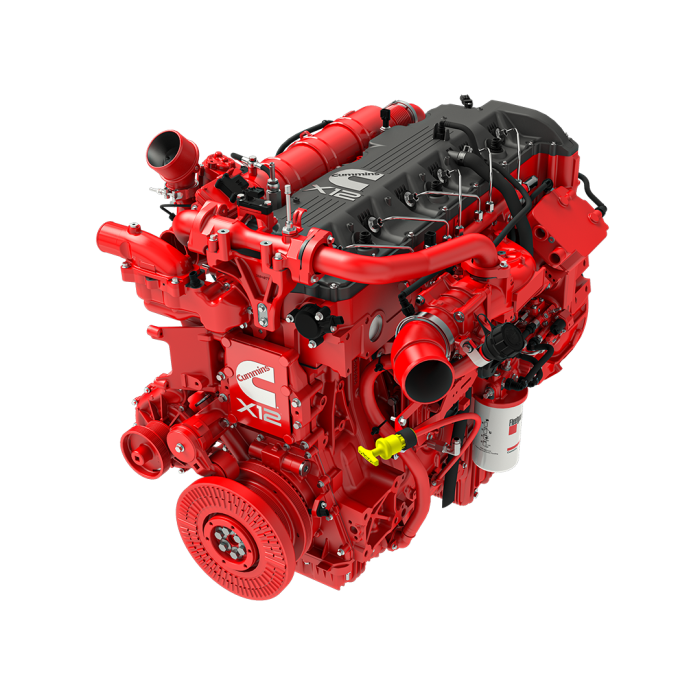 Power
350 - 500
hp
261 - 373
kW
Torque
1250 - 1700
lb-ft
1695 - 2305
N•m
Overview:
The X12 is designed to give weight-sensitive applications maximum payload. And at just 2,050 lbs., the X12 is at least 150 lbs. lighter than the lightest competitive 11L engine, yet it still delivers powerful performance from 350-500 HP and 1250-1700 lb-ft Torque. With the response and power of larger displacement engines, the X12 delivers the performance drivers desire while maximizing efficiency for every job.  
New from the X12 in 2021
Cummins continually tests and modifies its products to make sure customers can expect optimal performance from their Cummins engines and powertrains. So going into a new Environmental Protection Agency (EPA) emissions year, Cummins looked to do more with the X12 than just meet EPA requirements. 
Learn how the 2021 X12 will benefit the following markets
| Refuse Truck | Tank Truck | Concrete Mixer | Fire Apparatus | Motorhome and RV |
| --- | --- | --- | --- | --- |
| | | | | |
*Images not inclusive of all applications available with a Cummins X12 engine.