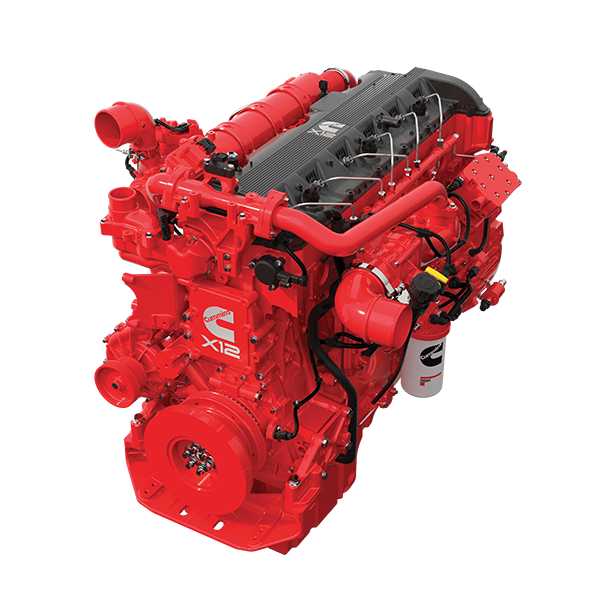 X12 (2018) for Heavy-Duty Truck
Power
350 - 500
hp
261 - 373
kW
Torque
1250 - 1700
lb-ft
1695 - 2305
N•m
Overview:
600 lbs Lighter in 2018? The Weight is Worth It.
At 2050 lbs, the X12 is especially designed for weight-sensitive applications. Up to 600 lbs lighter than other medium-bore engines and 150 lbs lighter than the next lightest engine in its class.
What can you carry with 600 more lbs?
30 more cases of soda in your delivery truck
97 more gallons of fuel in your tanker
10 more bushels of corn in your grain hauler
Productivity has a new liter. 12.
Weight reduction is only important if the engine can also get the job done efficiently, day in and day out. The X12 was designed to be a left lane truck with right lane fuel economy. It has the performance and transient response that impresses even the big bore truck drivers while maximizing fuel economy in regional haul and local duty cycles.
Up to 500 HP and 1700 lb-ft of torque
Revolutionary low-friction design for higher MPG
Maintenance intervals that rival the X15 with longer Oil Drains and DPF maintenance beyond the first owner
Compatible with a broad choice of transmissions: fully automatic, AMT and manual
Don't Just Take Our Word For It
We are field testing this engine across North America with our customers in a wide range of vehicles and job types.
Hear from everyone getting real-world experience now:
Lots of power." – Refuse, 54K lb typical GVW (Alaska)
I think this little motor does you guys proud… It's a beast." - Heavy Hauler, 115K-135K lb typical GVW (Canada)
Once in top gear, the X12 pulls better than 15L upgrades. Does not downshift as often and later in the hill… keeps on pulling." - Regional Hauler, 80K lb typical GVW (Midwest)
The engine is strong and smooth, very responsive and I can tell it has lots of power." - Dump Truck, 46K lb typical payload (Arizona)