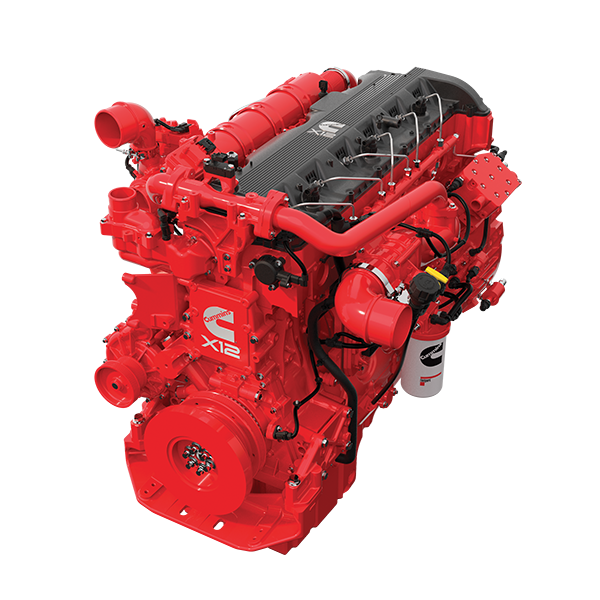 X12 For Motorcoach (2017)
Power
565 - 605
hp
421 - 451
kW
Torque
1950 - 0
lb-ft
2644 - 0
N•m
Overview:
The Productivity Leader.
Cummins X12 redefines the entire medium-bore engine category (10L-13L), setting new standards for productivity in motor coach applications. It's performance that is not just unchallenged – it's unbeatable. Smaller in size – at least 150 pounds lighter than the next closest competitive engine and up to 500 pounds lighter than other medium bore engines – the X12 still delivers powerful performance from 410 hp to 455 hp and 1450 to 1700 lb-ft of peak torque. At just 2,150 pounds, it has the highest power-to-weight ratio of any heavy-duty engine. The combination of power and efficiency is striking.

The Best Of All Worlds.
A legacy of proven performance goes into every Cummins X12. From L10 and M11 in the 1980s to ISM and ISX engines through the turn of the century, we've been building on a proven platform designed for maximum uptime and productivity. The X12 will be built in Jamestown, N.Y., in the same production facility as the Cummins X15, and will share many heavy-duty components, including our proprietary Cummins Holset VGT® Turbo, XPI fuel system, Electronic Control Module (ECM), our new Single Module™ aftertreatment system and ADEPT™ advanced electronic features. It's an engine platform that's been tested and is delivering in the toughest, most challenging operations around the world.

The X12 is designed to deliver exceptional throttle response for inner-city operation, especially when paired with an automated manual transmission. Plus, its compact size enables shorter bumper-to-back of cab (BBC) dimensions with improved maneuverability. A new Cummins engine brake improves stopping power and lengthens service brake life. Drivers will really like the way the X12 performs, whether the traffic light is turning green or red.

Trust Makes All The Difference.
The most reassuring part of owning any Cummins-powered vehicle is knowing that we've always got your back. Cummins engine experts and our extensive training programs ensure service and support excellence that you can depend on. No matter the situation. We are committed to the success of your business, which means complete dedication to working with you as a partner on everything from upfront vehicle and engine spec'ing to maximizing your uptime out on the road. You aren't just buying a Cummins engine – you're buying Cummins expertise and commitment anywhere and everywhere your business takes you. And no matter where that is, peace of mind is always nearby with over 3,500 authorized Cummins parts and service locations throughout North America.
Governed Speed
2000
Clutch Engagement Torque
800 LB-FT
1085 N•M
Number of Cylinders
6
Engine Weight (Dry)
2150 LB
975 KG
The X12 for 2018 builds on 40 years of 10 to 12 liter engine experience, with advanced Cummins technology optimized for maximum uptime and productivity. Cummins designs, develops and supports every component, from the air handling to the exhaust aftertreatment, to work as a totally integrated system – so we can optimize every function better than other engine manufacturers.
XPI Fuel System From Cummins Fuel Systems - The XPI system delivers superior performance, regardless of engine rpm. Multiple injection events per cycle improve fuel efficiency and enable smoother, quieter operation. Steel plungers and diamond like coated roller tappets make this the toughest XPI fuel system to date.
VGT® Turbocharger From Cummins Turbo Technologies - This turbocharger has variable geometry, for precision and responsiveness. An enhanced design with a new impeller provides rapid boost and improved engine braking.
Fleetguard oil and fuel filters from Cummins Filtration - protect against corrosion and contaminants, with proprietary NanoNet® media that provide 10 times better protection than conventional fuel filters
ADEPT™ Capable – a suite of advanced electronic features that interact with automated manual transmissions, dynamically adapting to operating conditions. ADEPT helps even novice drivers operate as efficiently as the most seasoned and professional while enhancing fuel economy with no impact to productivity.
Single Module™ Aftertreatment System From Cummins Emission Solutions - A flow-through design offers better heat management, for improved efficiency. Increased ash capacity means fewer cleanings. And it's up to 40 percent lighter and 60 percent smaller than two-part systems.
High-Capacity Electronic Control Module (ECM) - The robust ECM manages the engine and aftertreatment system simultaneously, for optimum performance and fuel efficiency.
Connected Diagnostics™ - Wirelessly connects your engine to Cummins through a telematics device for immediate diagnosis of a fault alert. Provides a clear recommendation for continued operation, or the need for service, within seconds.
To view all brochures for this product, click here.