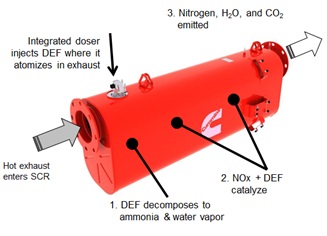 Designed by Cummins Emission Solutions, the SCR (illustrated here) is a completely passive flow-through system, with control fully integrated with engine management.
Here's how it works:
Hot exhaust enters the SCR where Diesel Exhaust Fluid (DEF) is injected and atomizes in the exhaust.
DEF decomposes to ammonia and water vapor, causing NOx and the DEF to catalyze.
Emissions through the chemical reaction create nitrogen, carbon dioxide, and water vapor for exhaust out.
The SCR's integrated design significantly reduces the size of the catalyst, allowing the SCR to fit into the exhaust system in place of most mufflers or silencers. In combination with enhancements made to the high pressure common rail (HPCR) fuel system, operators will experience a significant fuel consumption benefit.