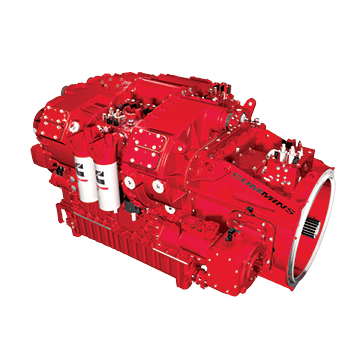 Torque
7080
lb-ft
9599
N•m
Overview:
Purpose Built
The Cummins QTR Series transmission has been purpose built to meet the harsh working environment of the oil and gas market. Long hours and unforgiving conditions guarantee only the highest quality products will survive and the QTR has been designed with this in mind.
One Solution
The QTR Transmission can be provided as a stand-alone product or in combination with the Cummins QSK50 or QSK60 engines. The Cummins package will provide less downtime for operators and improved total cost of ownership for equipment. With dedicated engineering support and manufacturing centers, Cummins can design and build the combined package so it can be dropped into your chassis reducing installation time and additional engineering work.
Unparalleled Support
The QTR is supported by the same level of parts stocking and quick parts support expected from Cummins engines. It also comes with the Cummins standard warranty that matches engine warranty of 2 years, 2000 hours or 1 year, unlimited hours. The Cummins North American distribution network provides engine and transmission service and support without boundaries.
 
Customer Testimonials