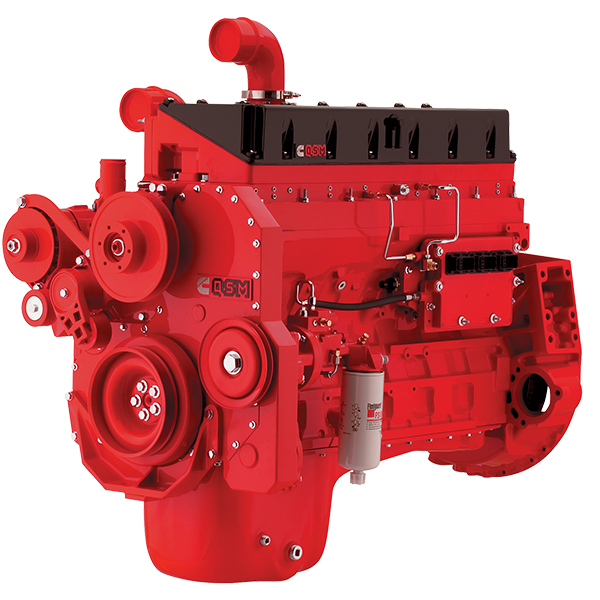 QSM for Agriculture (Tier 3)
Power
290 - 400
hp
216 - 298
kW
Torque
1150 - 1400
lb-ft
1559 - 1898
N•m
Certification
Tier 3 / Stage IIIA
Overview:
The QSM not only meets Tier 3 and Stage IIIA emissions standards, it uses in-cylinder technology, a simple and cost-effective solution that maintains the proven performance, dependability and durability of the QSM while operating cleanly and efficiently.
Every day, QSM engines are put to the test in farm machinery worldwide. With superior performance that's the result of advanced in-cylinder combustion technology and our responsive wastegated turbo. Both emissions and efficiency are optimized by the QSM's electronically controlled unit injectors, with cam-driven rate shaping.
In addition to providing exceptional reliability and durability, the advanced design of the QSM ensures that maintenance is kept to an absolute minimum. With oil change intervals that are double the previous standards in some applications and an auto-tensioning belt drive.
Available in a range of ratings from 290-400 hp (216-298 kW), the QSM was the first engine in the industry to be certified to EPA Tier 3 levels.
To ensure that every QSM is perfectly matched to every piece of equipment, Cummins PowerMatch and Advisor are ready to provide expert assistance with your spec'ing and installation process.
The QSM comes with virtually every feature standard. Plus, an optional REPTO (Rear Engine Power Take-Off) adds capacity for driving remote-mounted devices.
Every QSM engine is covered by Cummins three-step warranty, one of the most comprehensive and simplest plans in the industry.