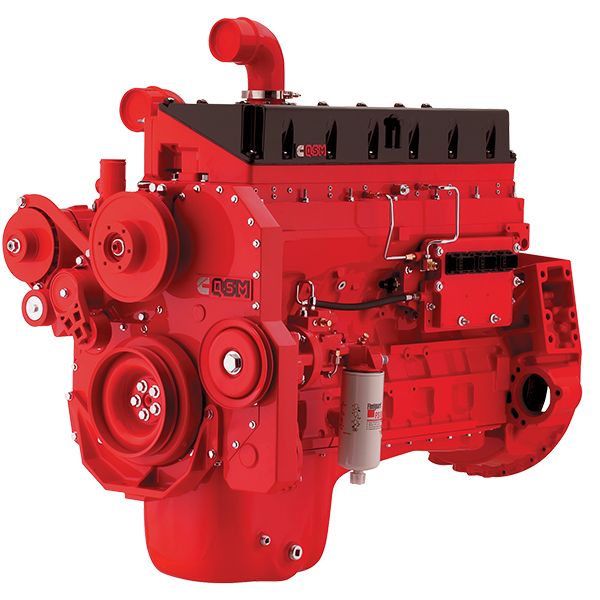 QSM for Agriculture (Tier 2)
Power
250 - 400
hp
186 - 298
kW
Torque
845 - 1400
lb-ft
1146 - 1898
N•m
Certification
Tier 2 / Stage II
Available Regions
US and Canada,
Russia / CIS,
Africa & Middle East,
Mexico,
Philippines,
Singapore,
Brazil,
Bolivia,
Uruguay,
Paraguay,
Argentina,
Colombia,
Central America,
Europe,
Japan,
Korea
Overview:
As sure as a rooster crows, you can expect a QSM-powered tractor to perform. Every morning. Whether you're pulling a chisel plow, cultivating a row crop or hauling in a wagonload of hay, the QSM gets it done. With superior performance that's the result of advanced combustion technology and our responsive wastegated turbo. Electronically controlled unit injectors with cam-driven rate shaping optimize both emissions and efficiency.
Maintenance is kept to an absolute minimum, with oil change intervals that are double the previous standards in some applications, sealed sensors and an auto-tensioning belt drive.
Available in a range of ratings from 250-400 hp (186-298 kW), every QSM is perfectly matched to every piece of equipment.  The QSM not only meets Tier 2 and Euro Stage II emissions standards, its advanced design can reach Tier 3 and Stage IIIA requirements as well, with minimal changes.  Cummins engineers work with the original equipment manufacturers, shaping power curves and ratings to align with work environment, load factors and operating modes. Then, we optimize the engine's performance with other vehicle components and subsystems, using Cummins Advisor.
The QSM comes with virtually every feature standard. QSM options include REPTO (Rear Engine Power Take-Off).
Every QSM engine is covered by Cummins three-step warranty, one of the most comprehensive and simplest in the industry.