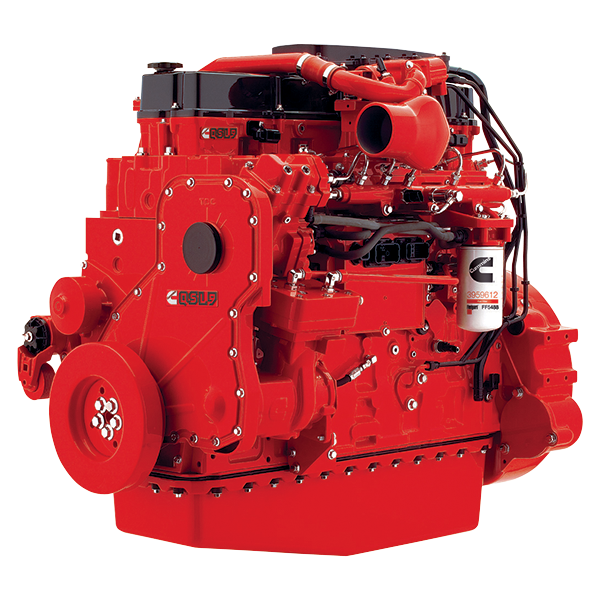 QSL9 for Construction (Tier 4 Interim)
Power
230 - 400
hp
172 - 298
kW
Torque
675 - 1200
lb-ft
915 - 1627
N•m
Certification
Tier 4 Interim / Stage IIIB
Available Regions
US and Canada,
Russia,
Africa & Middle East,
Mexico,
Philippines,
Singapore,
Brazil,
Bolivia,
Uruguay,
Paraguay,
Argentina,
Colombia,
Central America,
Europe,
Japan,
Korea
Overview:
Cummins next generation QSL9 meets the stringent EPA Tier 4 Interim and EU Stage IIIB emissions standard with improved performance and wide-ranging power solution extending from 240-400 hp (179-298 kW).  The QSL9 will achieve up to 5 percent better fuel efficiency*, lowering your cost of operation and improving your bottom line.

The QSL9 achieves these very low emission standards by using our proven cooled Exhaust Gas Recirculation (EGR) and Cummins Particulate Filter.  Both systems have been specifically developed for industrial applications to deliver premium performance and durability you can depend on.

The Tier 4 Interim and Stage IIIB 8.9-liter engine incorporates Cummins XPI Extra-High Pressure Injection fuel system enabling very high fuel injection pressure across all engine rpm speeds, providing cleaner combustion and improved engine response.  The fuel system is complemented by a Cummins Variable Geometry Turbocharger (VGT™) which continuously varies the air-flow boost to precisely match engine rpm and load demands for optimal performance.

Additional performance-enhancing features include Cummins Direct Flow air filtration system providing a 35 percent smaller installation profile than radial air filters, plus improved filtration efficiency and a crankcase ventilation system with a highly-efficient coalescing filter.  Cummins Electronic Control Module manages all components for a completely integrated system providing the impressive reliability and durability and long maintenance intervals you expect from the industry's Tier 4 technology leader. 

All backed by the best customer support in the industry.

Want to know what up to 5 percent better fuel efficiency will mean for your bottom line?  Visit the Fuel Duel page to find out.

*Depending on rating and installation optimization.