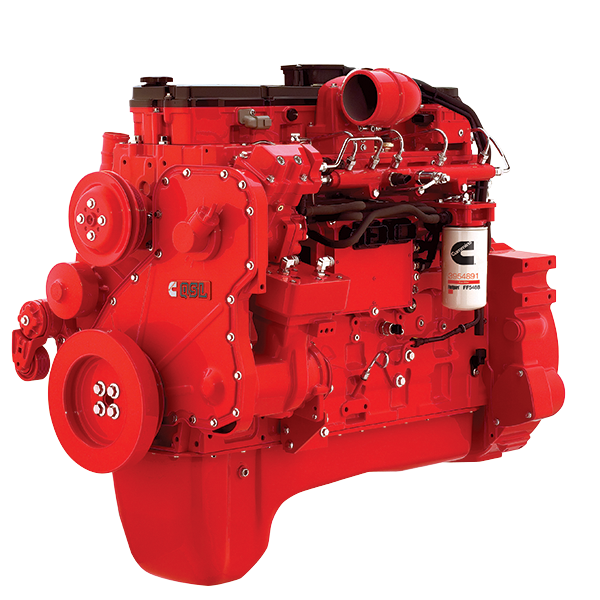 QSL for Agriculture (Tier 3)
Power
280 - 365
hp
209 - 272
kW
Torque
950 - 1113
lb-ft
1288 - 1509
N•m
Certification
Tier 3 / Stage IIIA
Overview:
The QSL uses Cummins advanced in-cylinder technology to meet Tier 3 and Stage IIIA emissions standards. This is a simple and cost-effective solution that maintains the proven performance, dependability and durability of the QSL while operating cleanly and efficiently.
There is no substitute for power when your equipment needs it. Every hour of every day, Cummins QSL engines deliver performance that meets the challenge of tough agricultural applications worldwide. With ratings from 280-365 hp (209-272 kW) and a torque rise of up to 50%, QSL engines combine advanced in-cylinder combustion technology and a High Pressure Common Rail (HPCR) fuel system that increases power and reduces emissions. At the same time, the QSL delivers better cold starting and runs 50% quieter for increased operator comfort. Every day.
In addition to providing exceptional reliability and durability, the advanced design of the QSL ensures that maintenance is kept to an absolute minimum.
To ensure that every QSL is perfectly matched to every piece of equipment, Cummins PowerMatch and Advisor are ready to provide expert assistance with your spec'ing and installation process.
The QSL comes with virtually every feature standard. Options include REPTO (Rear Engine Power Take-Off) and a 12- or 24-volt electrical capacity.
Every QSL engine is covered by Cummins three-step warranty, one of the most comprehensive and simplest plans in the industry.