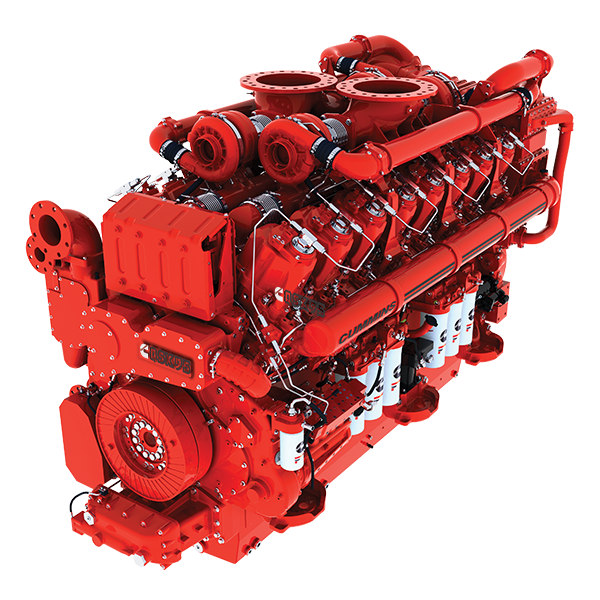 Power
4000 - 4400
hp
2983 - 3281
kW
Torque
11671 - 12838
lb-ft
15824 - 17406
N•m
Certification
Tier 4 Final / Stage IIIB
Overview:
A Better Train Of Thought.
For locomotive builders looking for a new-power approach to achieve cleaner, more efficient performance, the QSK95 engine arrives on time to deliver radically improved power capability for both freight and passenger operations.
With over 4000-hp (2983 kW) output from 16 cylinders, the QSK95 surpasses other high-speed engines. In terms of emissions capability and compact installation, the QSK95 is way ahead of much larger medium-speed engines with a similar output.
High power density, together with Cummins space-saving exhaust aftertreatment, creates a lighter, fully integrated emissionized power solution designed to meet all of the requirements for new high-speed passenger locomotives. Operators of multipurpose freight locomotives from 3600 hp (2684 kW) will find the QSK95 is a cost-effective and very dependable power solution – keeping train operations on schedule.
The QSK95 delivers even more fuel savings to line-haul freight applications when used together with a smaller Cummins locomotive engine for full pulling power when you need it, and the best possible fuel economy at lower power levels. A smart power-sharing system transfers work between the two engines to match the locomotive duty cycle, so that overall fuel and operational costs are significantly reduced – an advantage that represents a better train of thought over current conventionally powered locomotives.
Cummins own exhaust aftertreatment system is purpose-designed for locomotive installations, using Selective Catalytic Reduction (SCR) technology. This unique, modular system minimizes space claim and improves fuel efficiency, lowering the overall cost of operation. Without exhaust aftertreatment, the QSK95 engine meets Tier 3 locomotive emissions and is ideally suited for locomotives operating anywhere in the world, however tough the conditions. The engine is built ultra-strong for this purpose, with very long life-to-overhaul offering a major reduction in total life cycle costs.
The space-efficient design of the QSK95 enables easier service accessibility than is typical for engines of this output, as all key cooling, oil and fuel system components are externally engine mounted, providing rapid access.