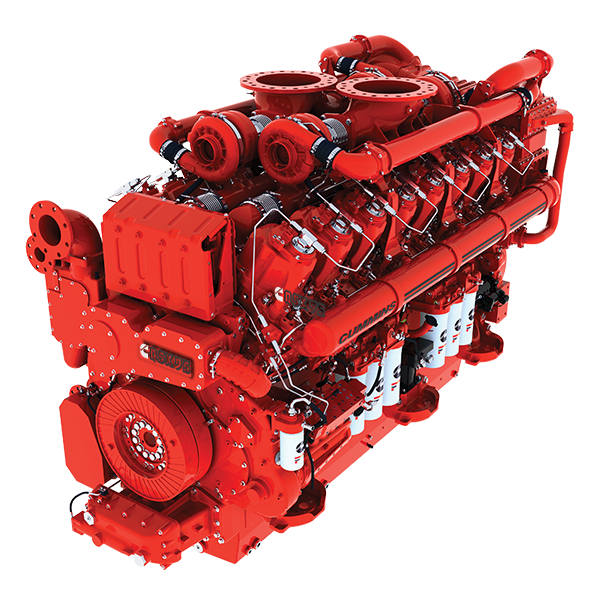 Power
3600 - 4400
hp
2685 - 3281
kW
Certification
Tier 2 / Stage II
Overview:
The QSK95 is ready for today's largest trucks and single-engine powered excavators – while offering the inherent capability to move the mining industry forward to even higher payloads with the next generation of large mining equipment.
With its 4400-hp (3282 kW) rating, the QSK95 delivers the optimum power-to-weight ratio for mining trucks and excavators. The current output of the engine is well within its design capabilities.
More efficient fuel injection works to deliver faster power delivery and combines with a quad-turbocharging system to boost transient response. As a result, the QSK95-powered haul truck will accelerate faster under full payload and climb steep haul roads in less time.
But that's only half the productivity story. For operators, it's not just about moving more tons of payload faster – it's about keeping that payload moving with no unscheduled engine downtime and at the lowest possible cost of operation.
We've examined every aspect of the QSK95 architecture, its systems and its components and have taken a no-compromise approach to using the very best techniques and materials.
The goal is to take engine uptime and availability to a new level for mining, even for the most severe duty cycles. Maintenance is faster and easier when it is needed – and service intervals are extended to a 500-hour minimum. The QSK95 is ready to meet Tier 4 Final and Tier 2 emissions standards.
For locations where Tier 4 emissions standards apply, we intend to replace the standard exhaust muffler with a Cummins Selective Catalytic Reduction (SCR) aftertreatment system. Designed to deliver more productivity and lower costs, the QSK95 sets a new standard for all mining engines.