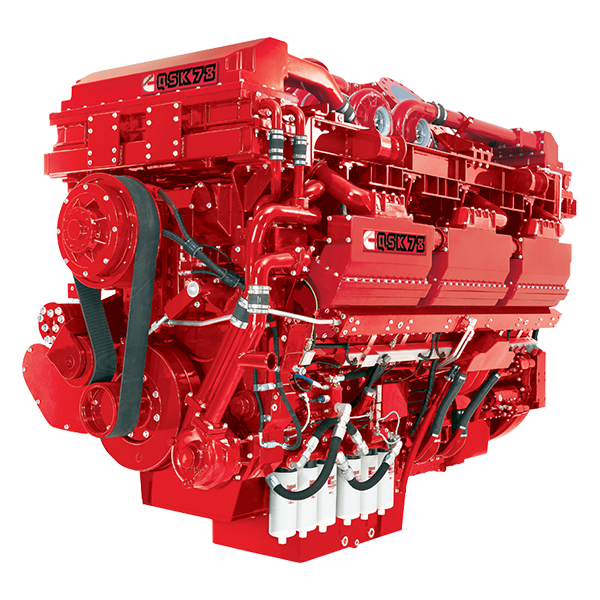 Power
3500 - 3500
hp
2610 - 2610
kW
Torque
10157 - 10157
lb-ft
13771 - 13771
N•m
Certification
Tier 4 Final/Stage V
Overview:
STRENGTH, EVOLVED
THE QSK78. BECAUSE EVOLUTION MAKES GREAT, BETTER.
Evolution. Continuous improvement. These are the forces that have shaped the QSK78 Tier 4. We've taken the QSK78 to new levels with a whole suite of smart design and technology upgrades. That means stronger capabilities and an even more robust design.
CUTTING EMISSIONS, REDUCING COSTS, AND IMPROVING RELIABILITY AND DURABILITY TAKES SMART SOLUTIONS
MODERN ENGINE AND TURBO CHARGING DESIGN leads to improved transient response.
MODULAR COMMON RAIL FUEL SYSTEM (MCRS) provides precise control of the fuel ejection event that results in lower noise, vibration and smoke, and optimized fuel economy.
FORGED HIGH-STRENGTH STEEL CRANKSHAFT lowers noise and vibration for operators delivering maximum performance and durability.
DUAL VISCOUS DAMPERS reduce gear train wear, leading to longer life to overhaul (LTO).
ELIMINATOR™ SELF-CLEANING FILTRATION SYSTEM combines full-flow and bypass filters with an oil pressure-powered centrifuge; this system extends oil drain intervals and reduces consumable waste, while improving cost of production (COP).
The QSK78 incorporates the best features of our legendary design, including full-authority electronic controls to achieve exceptional combustion efficiency.