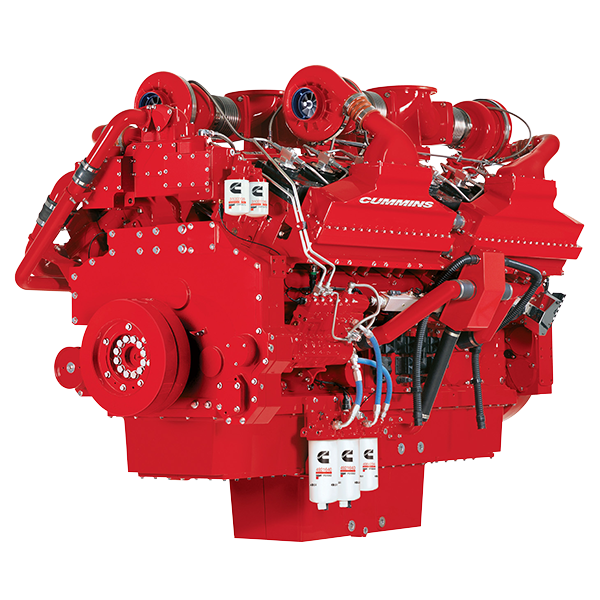 Power
1398 - 1875
hp
1042 - 1398
kW
Certification
Tier 4 Final/Stage V
Overview:
GROUND-BREAKING POWER WITH RESPONSIBILITY
MAKE AN IMPACT ON YOUR EFFICIENCY, NOT THE ENVIRONMENT
You know how much you depend on your excavators, haul trucks and wheel loaders – because you know how much it hurts when they let you down. That's where the uptime and productivity of the QSK60 is a game-changer. The QSK60 is designed for better fuel economy, lower emissions and lower operating costs, and its reliability and durability are tested and proven in mines worldwide, with no loss of power or torque. The QSK60. Power, with responsibility.
GROUNDBREAKING ADVANTAGES - Driven by the needs of our customers, Cummins is investing relentlessly in developing better products.
SMOOTH, QUIET AND ECONOMICAL - Thanks to advanced in-cylinder combustion technology, the QSK60 has a more controlled combustion process, and smooth, quiet performance and lower operating costs with up to 2 percent better fuel economy. With the QSK60, its all good.
TIER 4 FINAL AND STAGE V EMISSIONS COMPLIANT - By using a Selective Catalytic Reduction (SCR) system, we're able to protect engine performance and power density, while improving fuel economy over previous engine models, without increasing heat rejection or the engine footprint.
A SMARTER FUEL SYSTEM - The QSK60's new modular common rail fuel system means better fuel economy. The system provides constant high injection pressure regardless of engine speed or load condition.
POWER, EVEN AT ALTITUDE - Two-stage turbocharging delivers full power and exceptional performance at elevation up to 14,000 ft. (4,267 meters) without power derate.