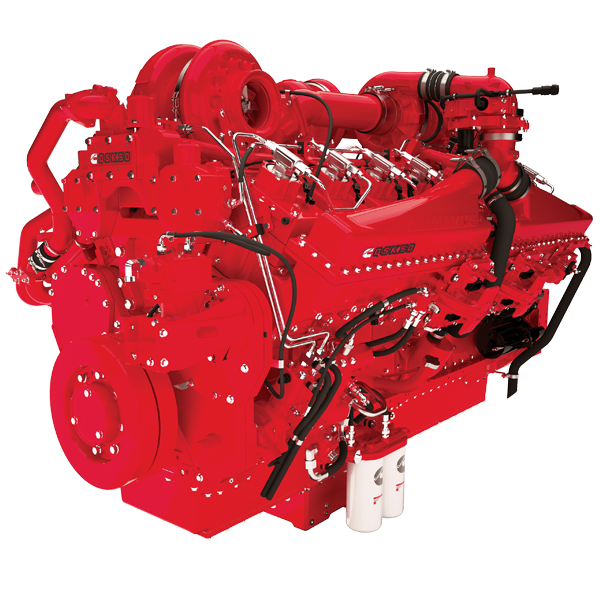 QSK50 for Mining (Tier 4 Final)
Power
1487 - 2000
hp
1109 - 1491
kW
Torque
1800 - 1900
lb-ft
2440 - 2576
N•m
Certification
Tier 4 Final / Stage IV
Overview:
Outwork. Outrun. Outperform.
In demanding oil and gas applications, dependability is everything. That's where the superior uptime and productivity of the Tier 4 Final QSK50 make the difference. Its V16 configuration offers up to 2000 hp (1471 kW) – an excellent choice for tough mining jobs.
Outwork.
The Cummins QSK50 for Tier 4 Final is built upon the reliable, dependable Tier 2 engine, with minimal base engine changes, giving the customer greater reliability and durability compared to other Tier 4 Final solutions.  Heat-rejection levels are similar to those of the Tier 2 engine as well, so there is no need to re-engineer the cooling package. Not only is the cooling package the same at Tier 2, but the Cummins QSK50 for Tier 4 Final drop-in design replaces the engine and muffler in your equipment, minimizing complexity and simplifying maintenance, and reduces noise on the job site. 
Outrun.
The QSK50 for Tier 4 Final was built upon the proven Tier 2 platform, with some enhancements. Advanced combustion technology is applied to the QSK50, allowing the engine to run more efficiently. Coupled with the addition of improved crankcase breather, customers can expect an increase in 10% life to overhaul.
Outperform.
The Cummins SCR Exhaust Aftertreatment system allows the engine to run efficiently and generates low particulate, while increasing fuel efficiency over Tier 2. You can expect the same power and performance, in a cleaner, quieter package.