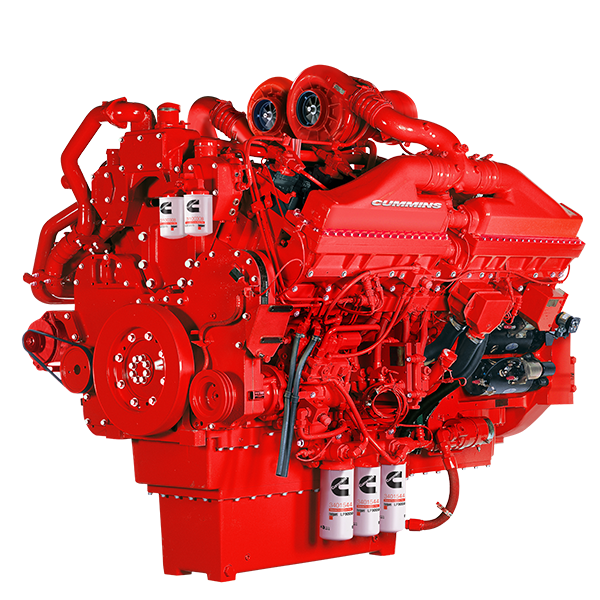 Power
1086 - 1260
hp
810 - 940
kW
Torque
3591 - 3861
lb-ft
4869 - 5235
N•m
Certification
Tier 2 / Stage II
Overview:
The QSK38 retains the proven V12 configuration and 38-liter displacement of its K1500E predecessor, but incorporates a new High Pressure Modular Common Rail (MCR) fuel system and an advanced electronic control module in order to meet U.S. EPA Tier 2 emissions requirements. Other features include new injectors, pistons, turbocharger and valve covers. Together with a robust block crankshaft and camshaft, this results in an average design life of 625,000 gallons to overhaul.
The QSK38 with MCR technology helps to reduce noise emissions and engine vibration, resulting in a safer and more comfortable work environment for equipment operators and mine personnel.  The MCR  fuel system maintains high injection pressures regardless of engine speed - unlike conventional injection systems - for exceptional performance at every rpm. Ratings at 1086 hp and 1200 hp (810-895 kW) deliver the power you need for haul trucks and excavators.

Cummins analysis-led computer modeling has enabled Cummins to optimize the in-cylinder combustion system of the QSK38 which results in a reduction of NOx by 40% and particulate matter by 60%, achieving U.S. EPA Tier 2 emissions levels with minimal impact to fuel consumption.  And because the QSK38 meets emission requirements with an in-cylinder solution, there's minimal installation impact with no complex aftertreatment.
Every QSK38 engine is covered by Cummins base warranty, one of the most comprehensive and simplest plans in the industry.