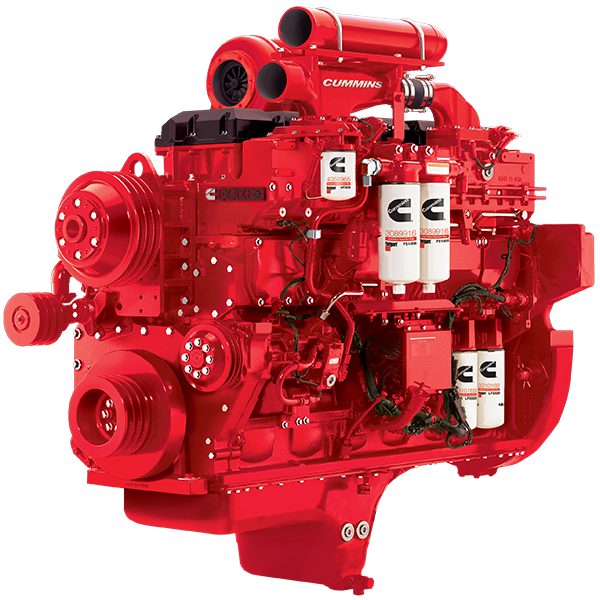 Power
760 - 950
hp
567 - 708
kW
Torque
2401 - 2897
lb-ft
3255 - 3928
N•m
Certification
Tier 2 / Stage II
Overview:
Mining is a tough, demanding business - it needs to be supported by equipment with the power, durability, reliability, cost-effectiveness and performance that the job demands. You can count on the Cummins QSK23 to fit your most aggressive and specialized applications. Every time.
The QSK23 combines rugged productivity with a high power density and advanced engine management technology to deliver the lowest operating cost per ton of any mining engine in its class. Its high-pressure injection (HPI) fuel system (up to 29,000 psi/200,000 kPa) results in more complete combustion for superior engine response across the entire power curve and the lowest fuel consumption in its class. Its compact and balanced inline six-cylinder design and proven durability in the toughest mine sites make it a great choice to repower vee engines of similar displacement.
The one-piece Ferrous Cast Ductile (FCD) iron pistons and robust cylinder head work to improve long-term durability and dependability. A one-piece cast-iron block, forged-steel crankshaft and a large-diameter camshaft are some of the standard features that ensure long, reliable performance between overhauls, with the capability of multiple rebuild cycles.
With ratings from 760-950 hp (567-708 kW) in both emissions-certified and non-certified specifications, the QSK23 is the ideal choice for haul trucks, excavators and other heavy-duty mining equipment around the world. It has the proven technology you need to raise productivity and lower costs. Every ton.
Every QSK23 engine is covered by Cummins base warranty, one of the most comprehensive and simplest plans in the industry.
QSK23 customers also benefit from reduced maintenance and exceptional customer support.