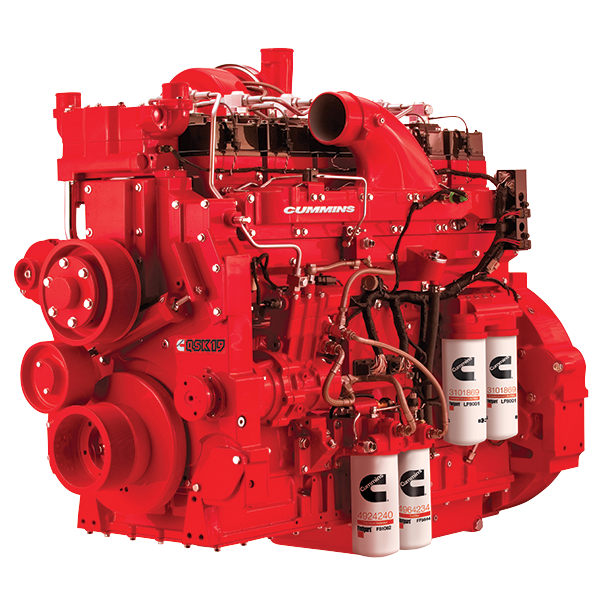 QSK19 for Mining (Emissions-Certified)
Power
506 - 800
hp
377 - 597
kW
Torque
1175 - 2032
lb-ft
1593 - 2755
N•m
Certification
Tier 2 / Stage II
Applications
Mining Engines
Underground Mining
Overview:
With ratings from 506-800 hp (377-597 kW), the QSK19 delivers the lowest life cycle cost with the longest life-to-overhaul of any engine in its class.  In the QSK19, standard features like state-of-the-art electronic controls and a modular common-rail (MCR) fuel injection system ensure clean, efficient performance, minimum maintenance and superior uptime for quarry and underground equipment - in the same compact footprint as its K19 predecessor. Optional features help reduce maintenance downtime and costs even further.
The QSK19 with MCR features help reduce noise emissions and engine vibration, resulting in a safer and more comfortable work environment for equipment operators and mine personnel.  Advanced electronic controls enable cold starts down to -5° F (-20° C) without starting aids.

Cummins analysis-led computer modeling has enabled Cummins to optimize the in-cylinder combustion system of the QSK19 which results in achieving U.S. EPA Tier 2 and Tier 3 emissions levels with minimal impact to fuel consumption.
The durability of the base engine is well-proven, with thousands of QSK19 engines in haul trucks, excavators, drills and wheel loaders delivering superior uptime around the world - above ground and below.
Every QSK19 engine is covered by Cummins base warranty, one of the most comprehensive and simplest plans in the industry.