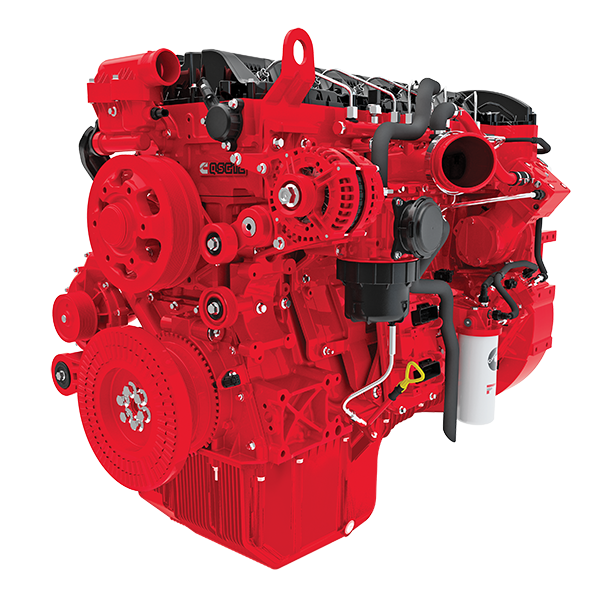 QSG12 (Tier 4 Final/Stage IV)
Power
335 - 512
hp
250 - 382
kW
Torque
1700 - 1700
lb-ft
2305 - 2305
N•m
Certification
Tier 4 Final / Stage IV
Applications
Agriculture
Construction
Mining Engines
Oil and Gas Engines
Rail Engines
Drilling
Well Servicing
Overview:
The new QSG12 brings a major advantage for Tier 4 Final and Stage IV equipment installations by restoring the envelope size of the QSM11 predecessor, used for Tier 3 and Stage IIIA applications. Higher efficiency air handling and advanced combustion enable the QSG12 to return to the simplicity of a wastegated turbocharger and achieve near-zero emissions without the need for a cooled Exhaust Gas Recirculation (EGR) system. As a result, internal loads on the QSG12 are reduced to free up extra power potential, while heat rejection is lowered by over 40 percent compared with engines using cooled EGR.

A key design focus for the QSG12 has been to achieve significant weight savings in order to increase the power-to-weight ratio. A sculptured block retains high rigidity while removing unnecessary mass. The use of composite material for the oil pan and valve cover provides further weight savings. With this innovative approach, the QSG12 achieves a remarkably low engine weight of just 1900 lb (862 kg) to enable a top-rated power-to-weight ratio of 0.27 hp per lb (0.44 kW per kg) while retaining all the structural strength and durability expected of a Cummins heavy-duty engine.

The G Series offers fuel efficiency through parasitic reducing technology without variable-flow pumps that add unnecessary cost and reduce reliability. Its Single Cam In Head (SCIH) design with roller valve train and high-efficiency intake ports continues the design theme of minimum complexity and maximum efficiency. The resulting low-weight design allows more payload to be delivered while requiring less energy to manufacture than competitive designs.

With ratings covering a broad 335 hp to 512 hp (250-382 kW) range, the QSG12 offers an ideal power solution for a wide variety of applications, including wheel loaders, excavators, cranes and material handling, road building equipment, compressors, screening and crushing machines.