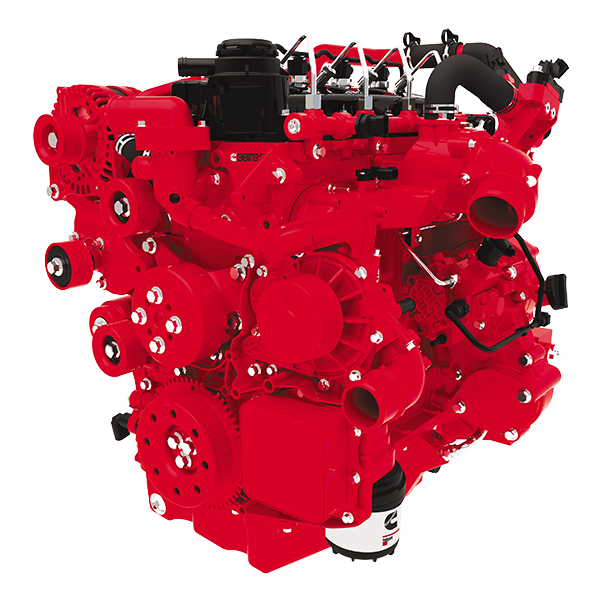 QSF2.8 (Tier 4 Final/Stage IV)
Power
49 - 74
hp
37 - 55
kW
Torque
147 - 221
lb-ft
199 - 300
N•m
Certification
Tier 4 Final / Stage IV
Applications
Agriculture
Construction
Mining Engines
Rail Engines
Underground Mining
Overview:
Better. In Every Dimension.
The 2.8-liter QSF delivers performance at 74 hp (55 kW), which is comparable to that provided by larger engines up to 3.6 liters, in an envelope size that's similar to 2.2-liter engines used at 49 hp (37 kW). High Pressure Common Rail (HPCR) fuel injection, together with full-authority electronic controls and a Cummins wastegated turbocharger, combine to deliver a very impressive peak torque of 221 lb-ft (300 N•m).

This advanced technology enables the QSF2.8 to meet the near-zero emissions standards of Tier 4 Final/Stage IV using only cooled Exhaust Gas Recirculation (EGR) and our proprietary Diesel Oxidation Catalyst (DOC). The same QSF2.8 engine without the DOC meets Tier 3/Stage III emissions regulations for regions where those standards apply.

The DOC is truly "fit and forget" technology – a totally passive system that never needs any form of regeneration as required by a Diesel Particulate Filter (DPF). It also gives equipment designers the flexibility to mount components separately from the exhaust muffler or as part of a combined catalyst-and-muffler unit. Specifically designed for compact 4-cylinder applications, the CCC benefits from Cummins Emission Solutions' vast experience with DOC technology.

The compact design of the QSF2.8 includes our proprietary Direct Flow™ air cleaner, which takes up significantly less space than conventional cylindrical air filters, and has enhanced dust-holding capacity, for longer service intervals.

Innovative use of composite materials, together with a sculptured cast-iron block, give the QSF2.8-powered equipment a significant weight advantage, at just 507 lb (230 kg).

Maintenance is made simpler through remote mounting of the Electronic Control Module (ECM) for rapid plug-in diagnostics and data downloads using electronic tools. The oil fill, lube filter and fuel filter are set up for rapid service, with 500-hour intervals. Built to Cummins stringent manufacturing standards for use anywhere in the world, the QSF2.8 is smaller, stronger and simpler by design than any other engine with this output – while retaining legendary reliability and durability. In other words, it is better in every dimension.