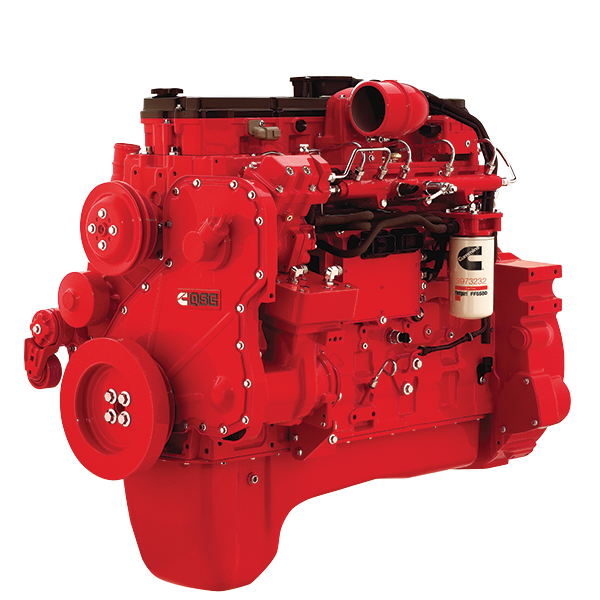 QSC for Agriculture (Tier 3)
Power
205 - 305
hp
153 - 227
kW
Torque
675 - 1020
lb-ft
915 - 1383
N•m
Certification
Tier 3 / Stage IIIA
Overview:
To meet Tier 3 and Stage IIIA emissions standards the QSC uses Cummins advanced in-cylinder technology, a simple and cost-effective solution that maintains the proven performance, dependability and durability of the QSC while operating cleanly and efficiently.
The world is full of uncertainties, from weather predictions to economic forecasts. But you can always count on Cummins QSC-powered equipment to pull you through. Cummins QSC engines are built on one of the world's most successful - and durable - engine block designs. In fact, there are over three quarters of a million in use around the globe every day.
The QSC advanced electronics provide enhanced engine performance with higher torque and better throttle response at every rpm. Electronic engine control provides additional advantages that include increased fuel economy, precision diagnostics and engine protection.
And the impressive reliability and durability of the QSC is enhanced by long maintenance intervals, improved cold starting, plus up to 50% quieter operation for improved operator comfort.
Available in a range of ratings from 205-305 hp (153-227 kW), the QSC meets every Tier 3 and Stage IIIA emissions standard without compromise.
The QSC offers a wide range of standard features. And options like REPTO (Rear Engine Power Take-Off) add broad functionality.
To ensure that every QSC is perfectly matched to every piece of farm equipment, Cummins PowerMatch and Advisor are ready to provide expert assistance with your spec'ing and installation process.
Every QSC engine is covered by Cummins three-step warranty, one of the most comprehensive and simplest plans in the industry.