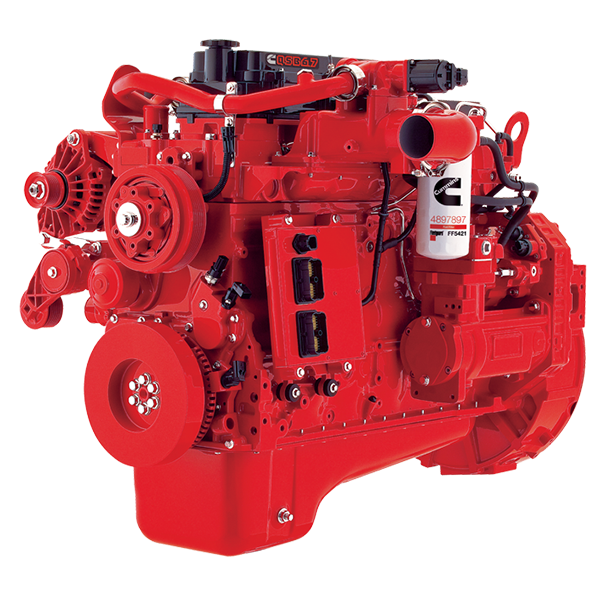 QSB6.7 for Agriculture (Tier 4 Interim)
Power
146 - 300
hp
109 - 224
kW
Torque
485 - 730
lb-ft
658 - 990
N•m
Certification
Tier 4 Interim / Stage IIIB
Available Regions
US and Canada,
Russia,
Africa & Middle East,
Mexico,
Philippines,
Singapore,
Brazil,
Bolivia,
Uruguay,
Paraguay,
Argentina,
Colombia,
Central America,
Europe,
Japan,
Korea
Overview:
The EPA Tier 4 Interim and EU Stage IIIB Cummins QSB6.7 take on your toughest job with a fully integrated system from air-intake to exhaust aftertreatment.  Ratings now extend all the way up to 300 hp (224 kW) providing performance like a larger displacement engine while offering a significant installation advantage.

The QSB6.7 achieves these very low emission standards by using our proven cooled Exhaust Gas Recirculation (EGR) and Cummins Particulate Filter.  Both systems have been specifically developed for industrial applications delivering premium performance and durability you can depend on.

This engine combines cooled EGR with an improved High Pressure Common Rail (HPCR) fuel system enabling cleaner and more efficient combustion resulting in an up to 5 percent better fuel efficiency* without compromising performance. 

Improved fuel efficiency isn't the only benefit that the new 6.7-liter engine has to offer.  Tier 4 Interim and Stage IIIB performance-enhancing features include Cummins Direct Flow air filtration system providing a 35 percent smaller installation profile than radial air filters and improved filtration efficiency.  Also our patented Variable Geometry Turbocharger (VGT™) and a crankcase ventilation system with a highly-efficient coalescing filter for cleaner engine operating conditions.  Cummins Electronic Control Module manages all components for a completely integrated system.  The QSB6.7 provides all of the performance, reliability, durability and long maintenance intervals that you would expect from an engine that won the prestigious LLEAP Gold Award for Design Leadership.

All backed by the best customer support in the industry.

Want to know what up to 5 percent better fuel efficiency will mean for your bottom line?  Visit the Fuel Duel page to find out.

*Depending on duty cycle and installation optimization.