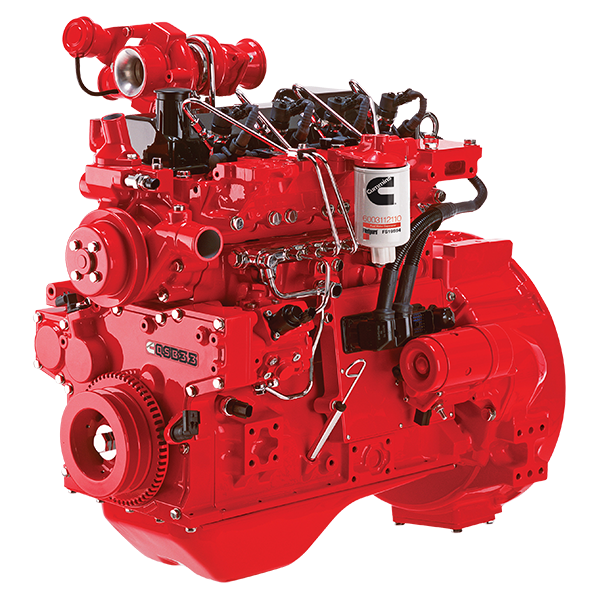 QSB3.3 for Construction (Tier 3)
Torque
277 - 306
lb-ft
376 - 415
N•m
Certification
Tier 3 / Stage IIIA
Overview:
Cummins next generation 4-cylinder QSB3.3 engine will meet U.S. EPA Tier 4 Interim and EU Stage IIIB off-highway low emission standards in 2012 with our proven, award winning 3.3-liter engine platform with a fully integrated system from air-intake to exhaust aftertreatment.

The QSB3.3 achieves these very low emission standards by using our proven cooled Exhaust Gas Recirculation (EGR) and Cummins Particulate Aftertreatment.  Both systems have been specifically developed to maintain the compact design of the QSB3.3 ensuring the most space efficient installation.

Cummins cooled EGR coupled with our High Pressure Common Rail (HPCR) fuel system provides a cleaner and more efficient combustion resulting in up to 5 percent better fuel efficiency* compared to the Tier 3 / Stage IIIA engine.  With better fuel efficiency and ratings that extend from 85 to 120 hp (63 to 90 kW), the QSB3.3 provides the lowest cost of ownership while retaining a very high power output for an engine of its size.  

Tier 4 Interim and Stage IIIB performance-enhancing features include Cummins Direct Flow air filtration system providing a 35 percent smaller installation profile than radial air filters and improved filtration efficiency.  The new Variable Flow Turbocharger with electronic control managing the cooled EGR flow across the entire rpm range.  The engine also incorporates a crankcase ventilation system with a highly-efficient coalescing filter for cleaner engine operating conditions.  Cummins full-authority Quantum System electronic controls manage all components providing a completely integrated system.

With the next generation QSB3.3, you get premium performance, reduced maintenance and exceptional customer support with the same reliability and dependability customers have come to expect from our Tier 3 platform.

Want to know what up to 5 percent better fuel efficiency will mean for your bottom line?  Visit the Fuel Duel page to find out.

*Depending on duty cycle and installation optimization.