Our products are supported by a team of marine-certified distributors offering sales, service and application expertise – visit the Cummins Locations map to find your nearest Cummins distributor. Plus, our products are backed by a comprehensive warranty that is consistent and valid at any authorized service outlet worldwide.
Our commitment to support is further evidenced by QuickServe®. This system is dedicated to performing fast, accurate maintenance and repair services using genuine Cummins new and ReCon® parts to minimize downtime and maximize productivity.
QuickServe trucks and marine-trained technicians are fully equipped to respond rapidly, performing the necessary diagnosis and repairs on-site in a timely manner.
---
Regional Response Teams
Created to support marine fleet customers operating globally, Cummins Regional Response Teams provide a single point of contact to coordinate service events, whenever and wherever needed, even in the most remote operating locations. Plus, Cummins works with customers to create a comprehensive customer support plan that details global support; spare engine and alternator programs; and global parts availability as required by the customer. This is especially important for vessels operating globally.
---
Cummins Care Marine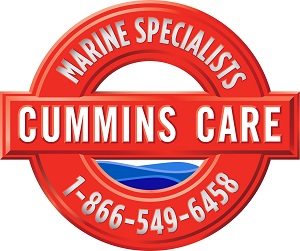 In 2014, Cummins launched Cummins Care Marine for our recreational boating customers operating a Cummins QSB, QSC, QSL and QSM recreational engine.
Cummins Care Marine Specialists are available 24 hours a day, 7 days a week to help with the following requests:
Locating the nearest authorized repair location
Assisting with repair event scheduling
Managing the repair event process
Providing consistent communication and updates on repair event status
If you are located in the US or Canada you can reach us toll free at 1-866-549-6458. You can also visit our Cummins CARE customer assistance page for additional contact information.
When the Cummins Care specialists takes your call, please identify yourself as a boat owner with a Cummins engine. Please have the following information when you place the call:
Operator contact information (name, cell phone, email)
Vessel location
Engine Serial Numbers
Vessel type (brand, boat model, boat model year)
Hours on engines
Vessel propulsion type (Inboard, Zeus, Jet, Sterndrive)
Nature of the call
Please ask the Cummins Care specialist for a work order number. This is how your inquiry will be referenced and tracked until it's closed out.
Following these steps and having this information will help Cummins respond to your inquiry as quickly as possible.
---
Rebuilds
The benefit of Cummins experience in supporting marine customers is that we understand the value that a long life-to-engine-overhaul has on the total operating costs of the vessel. Cummins has invested heavily in local remanufacturing capabilities that allow the customer to get the maximum life out of every engine.  We work closely with customers to schedule rebuilds proactively and thereby minimize downtime.
Cummins Rebuild Centers employ a number of strategies designed to ensure unmatched product quality and engine life. When the swapped engine arrives at the rebuild center, it is disassembled to the last component, cleaned and inspected.
Genuine Cummins new and remanufactured parts include components in their kits that are ready to be used in the remanufacturing process. Following Cummins quality manufacturing process, rebuilt engines are tested to original manufacturing standards through hot testing to ensure that they meet or exceed factory standards. Cummins rebuilt engines are delivered to marine customers with the same quality performance, reliability and durability that you've come to expect from Cummins. That's the reason we offer a full 1-year/unlimited hours parts warranty on every engine from our Cummins Rebuild Centers.
We have rebuild kits available for the KTA19.
---