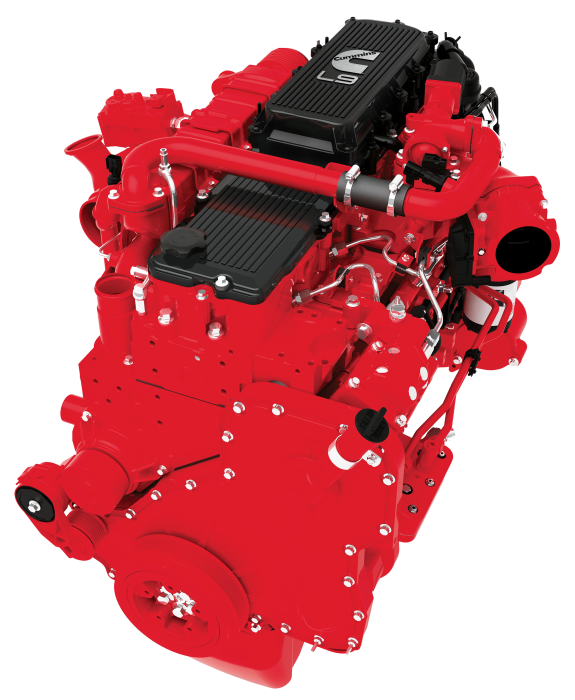 L9 for Shuttle Bus (2017)
Power
260 - 380
hp
194 - 283
kW
Torque
720 - 1250
lb-ft
976 - 1695
N•m
Available Regions
US and Canada,
Russia,
Africa & Middle East,
Mexico,
Philippines,
Singapore,
Brazil,
Bolivia,
Uruguay,
Paraguay,
Argentina,
Colombia,
Central America,
Europe,
Korea,
Japan
Overview:
SmartEfficiency: High-Achieving and Cost-Lowering

The Cummins SmartEfficiency initiative is a focused approach that improves uptime and reliability and providing a broad spectrum of engine choices to meet every need. The combination of a low cost of operation, high reliability, clean operation and long-term durability are unsurpassed in the industry. The fact that all Cummins engines use the same control system technology and can be serviced at any authorized Cummins location ensures serviceability anywhere, anytime.

Manufactured at the Rocky Mount Engine Plant in North Carolina, and building off a legacy of over 27 years and 5 million engines produced, the L9 is reliable, proven, and Buy-America compliant. Transit managers can expect a 15% fuel economy improvement compared to buses purchased 10 years ago, while still getting the best power-to-weight ratio from an engine in its class.

For better reliability in 2017 and going forward, with transit ratings, an isolated coolant loop – a water-to-water heat exchanger – will be engine mounted to provide heat for passenger compartments as needed, while providing a self-contained coolant flow to the engine. This new approach reduces the chance for coolant leakage and air infiltration for better Exhaust Gas Recirculation (EGR) Cooler reliability and durability.

Connected Diagnostics: Smarter Route Management with Connected Diagnostics
Transit bus drivers have enough to pay attention to without being concerned about engine fault codes. In the rare event that one is triggered while the bus is in operation, it can be diagnosed immediately over the air, through the addition of Connected Diagnostics. Cummins Connected Diagnostics delivers real-time engine fault code analysis, with a probable diagnosis and a recommended action for school buses that are equipped with telematics.