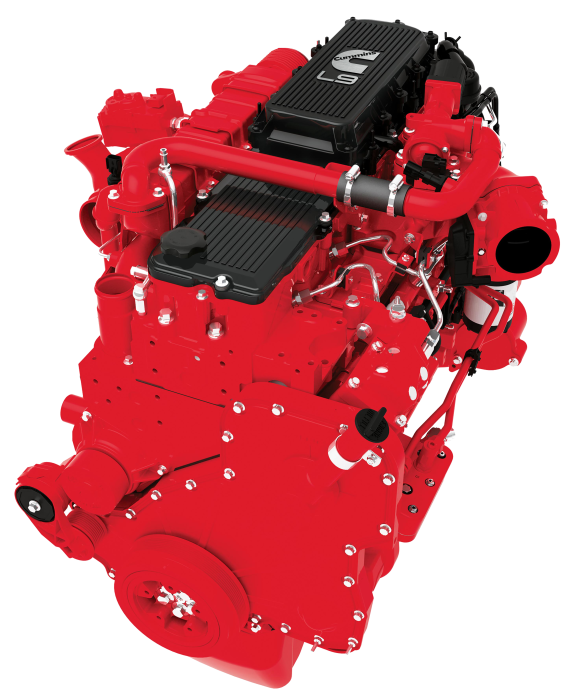 L9 for Medium-Duty Truck (2017)
Power
260 - 380
hp
194 - 283
kW
Torque
720 - 1250
lb-ft
976 - 1695
N•m
Available Regions
US and Canada,
Russia,
Africa & Middle East,
Mexico,
Philippines,
Singapore,
Brazil,
Bolivia,
Uruguay,
Paraguay,
Argentina,
Colombia,
Central America,
Europe,
Korea,
Japan
Overview:
Cummins is redefining efficiency for customers in 2017 with the newest generation of its L Series engines. The Cummins L9 diesel for 2017 delivers outstanding productivity and the best power-to-weight ratio in its class. Proven reliability keeps your trucks on the road longer. Faster, more accurate service provides even greater uptime, and customers can expect up to 15 percent better fuel economy over the engines of the last decade.
High-strength components, together with features such as replaceable cylinder liners for easier rebuilding, do more than add life to the engine; they also add to its residual value. The L9 is designed to excel in some of the toughest duty cycles. Cummins designs and manufactures our own engines and aftertreatment systems. In doing so, we're providing customers greater performance, uptime, durability and efficiency.
The L9 for 2017 features a new Single Module™ aftertreatment system that is not only compact, but also has greater thermal efficiency, for improved engine operation.
Of course, there's also the trust factor that comes from buying from a company that stands behind its product. Cummins offers the best warranty and extended coverage plans in the industry, and backs them with the largest, most capable support network in North America. We constantly strive to improve efficiency with the latest in realtime diagnostics, for accurate, fast service when needed. All of that leads to greater peace of mind for customers.
The L9 is the total package. No other engine in its horsepower range has this combination of power, proven reliability, rebuildability and longevity.