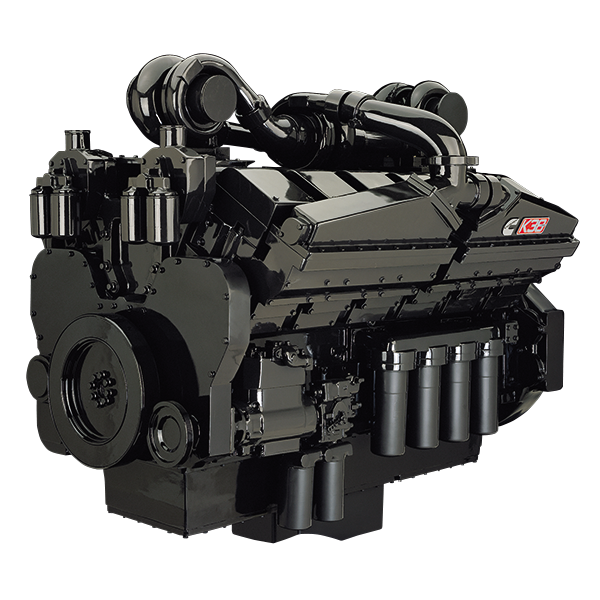 Power
925 - 1450
hp
690 - 1081
kW
Torque
3020 - 4127
lb-ft
4095 - 5595
N•m
Overview:
In mining applications, continuous uptime makes the difference in productivity. That's where the legendary durability of the Cummins K38 high horsepower engines provide a big advantage for your mining business.  With ratings from 925 hp to 1450 hp (690 -1082 kW), K38 engines have proven performance with the mechanical simplicity of Cummins PT® fuel system.  Features such as full-authority Cummins CENTRY™ electronic controls provide engine monitoring and automatic timing adjustment for peak performance and fuel efficiency and CENSE™, an electronic monitoring package for increased uptime.  Cummins K38 and K1500E engines are designed to reduce engine operating and maintenance costs while maximizing productivity.

The K1500E applies robust CENTRY electronics and other improvements to the proven K38 engine platform to create a V12 engine reliable, durable and smart enough for the toughest mining applications such as electric drive haul trucks, loaders, excavators and shovels. In hauling equipment for example, the electronic controls work with the GE Statex I, II or III Advanced Electric Drive Systems for improved machine efficiency and fuel savings.

The base warranty includes full coverage on K Series engines and branded components, including electrics such as starters and alternators for unlimited hours during the first year of operation, extending through 2 years or 2,000 hours (whichever comes first). The base warranty also includes 3-year/10,000-hour standard protection on major components.  Extended coverage is available with our Encompass protection plans with the flexibility to meet the needs of your mining operation.  Cummins Encompass has you covered, around the clock and around the globe. 

Cummins combines proven performance with advanced technology and a global service and support network with a hard-earned reputation for responding to every need, at every hour of every day.